Ted Cruz Preaching Sermon at Community Bible Church, Beaufort, SC
Community Bible Church, a two-campus church in South Carolina, will be hosting a special guest preacher on Sunday, February 14th. Republican presidential candidate and U.S. Senator, Ted Cruz, will be offering a sermon at the 11 am service. The service will be streamed live on the church's website.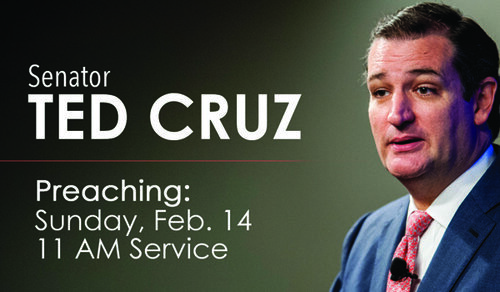 Recently, Ted Cruz was declared anointed by God at the king of prosperity preachers, Kenneth Copeland's church. While officially endorsed by IHOP founder and charlatan, Mike Bickle, Cruz's response to all of the anointing is "Here am I, Lord. Send me."
So it comes as no surprise that Ted Cruz would see himself as a messenger of God, called to preach a life-giving message from the Lord on a Sunday morning.
But, in a solid Bible Church?
Looking at Community Bible Church's statement of faith on their website, they appear to adhere to solid biblical theology. So then why would they invite a politician with ties to the New Apostolic Reformation, and who has accepted endorsements from notable false teachers, to preach a sermon to their congregation on a Sunday morning–a time set aside for the preaching of God's word?
This is what happens when politics takes precedence over the absolute sufficiency of Scripture.
[Contributed by Pulpit & Pen]