Southern Baptist Employee Insults Elderly: "Glad You Left the SBC"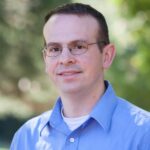 Last week, the Louisiana Baptist Message, an official publication of the Louisiana Baptist State Convention, posted an editorial titled "Does the ERLC Represent the SBC?" With a growing laundry list of concerns about the Ethics and Religious Liberties Commission (ERLC), it's no wonder that more and more people are waking up to the damage that's being done. Many are seeing the dangers of this unchecked institution that's leading the Southern Baptist Convention into a new era of social justice and theological liberalism, and people are speaking out.
In the comments section of this editorial, an interesting exchange took place–an exchange that has now been Canerized (scrubbed). An elderly man, by the name of Louis Lore, posted a comment outlining his concerns with Russell Moore, and the direction he is taking the ERLC as director. He states:
Russell Moore is changing the SBC from the top down…Russell Moore was a poor choice and the reason I left the SBC after many years as I cannot support the SBC leadership anymore. SBC on wrong path. Will be just another social correct mainline church in 10 to 20 years if Moore remains a leader (screenshot).
To the rescue, and in typical Evangelical Intelligentsia (EI) fashion, one of Russell Moore's fanboys jumps into correct the situation. We certainly can't have someone else as uneducated and uninformed as Mr. Lore running around stating his opinion, now can we? That would be unthinkable.
Andrew Spencer, Director of Assessment and Institutional Research at Oklahoma Baptist University, comes in and says,
Louis Lore, thank you for leaving the SBC. The more low-information individuals that leave, the more we can focus on reaching the nations with the gospel and our neighbors for Christ.
No, this is not satire…he actually said that. To a 68-year-old ex-Southern Baptist. See the screenshot below:

In other words, he is insulting this man's intelligence by telling him he isn't smart enough to understand why Russell Moore, the ERLC, and the EI are all on board with their liberal behavior. Stupid, uneducated, old folks like you just need to leave so we can get on with our progressive tactics. Good Riddance! And the simple fact that you disagree with us, since we're so much smarter than you, just automatically makes you a twit.
Interestingly enough, right after he berates Louis, he goes on to say,
Conservatism is not about being angry, but pursuing what is good for all of society. That includes helping people to engage in thoughtful debate and not striking out simply because they think something different that[sic] us.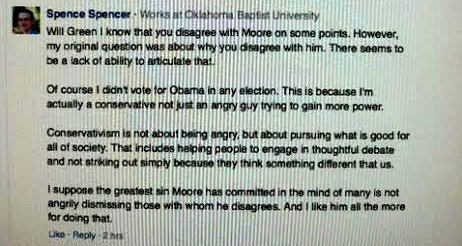 Not only does he display the typical lack of understanding of what conservatism is (hint: it's not "pursuing what's best for all of society"–that's social justice), but he condemns Louis for leaving the SBC because he'd had enough.
We can have "thoughtful debates," as long as we agree with them.
In other words, Mr. Spencer is fine with people staying in the SBC as long as you keep your rhetoric toned down enough not to get in the way of their social-progressive plans, but if you start speaking up, or start trying to do anything about it, you're going to get labeled as an uneducated, low-information peasant.
Sigh!
I guess he thought he was a little too hard on the old guy, as he went and deleted all his comments, and replaced it with this:

Mr. Spencer wants you to know that he is on board with everything Russell Moore does, and will fight and defend him tooth and nail…come Hell or high water. He will passionately engage you if you step across that line, and question Russell Moore in any way.
If these people would put half as much passion into defending Scripture as they do Russell Moore, think how much better off the state of the church would be.
Below are more screenshots (that have since been deleted) of Mr. Spencer insulting the intelligence of people who disagree with the progressive agenda of the ERLC, as well as a screenshot of Mr. Spencer retweeting an insult to the IQ of Americans that might support Donald Trump.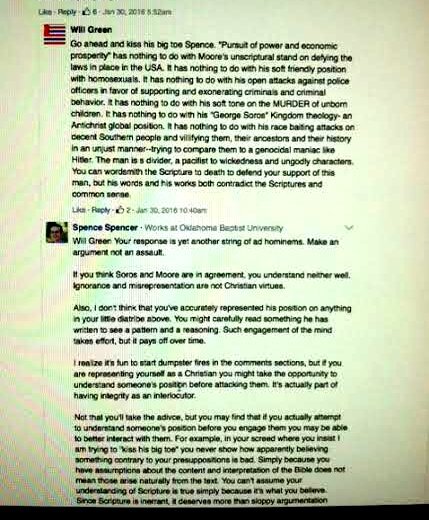 This is the Evangelical Intelligentsia. Welcome to the Southern Baptist Convention.
**Update**
Since the posting of this article, Spencer has "retracted" his comments he made online. He has also removed his affiliation with Oklahoma Baptist University from his Facebook profile.

[Contributed by Pulpit & Pen]
See Also: An Open Letter to Daniel Patterson, ERLC.