Russell Moore and a "Shift in Posture Toward Gays"
According to medical sources, a shift in posture is often caused by a necessary adjustment to relieve the stress put upon the backbone. If that's the case, Russell Moore and the Ethics and Religious Liberty Commission (ERLC has certainly shifted in posture). Simply put, the ERLC has been caving under the stress of cultural pressure, and the backbone is weak.
The LGBT organization, Level Ground, which we first wrote about here, had some glowing things to say about Russell Moore in advance of their film festival.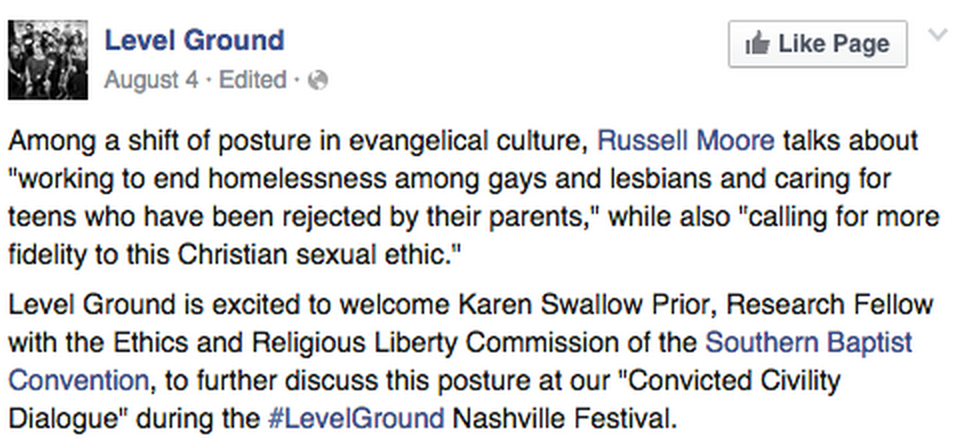 Russell Moore is apparently a part of that "shift of posture in evangelical culture," according to the homosexual group – and it's a shift they're excited to hear about. This sounds very much like the take of NPR, calling Russell Moore's strategy a "softer approach" (source link) or the Wall Street Journal's characterization of his approach as a "softer tone" when they "broke bread with homosexuals" (source link).
It seems that everyone – from secular journalists to homosexuals – are convinced that Russell Moore, the ERLC and Southern Baptists have gone soft on homosexuality…except for Southern Baptists themselves, who act as though that's a crazy conspiracy theory. The evangelical intelligentsia (EI) have convinced us that Moore is just applying a little nuance to make us more likable. There may be a tad too much nuance to Moore's message, however, because lost people are eating it up.
The Level Ground Facebook post is quite astute – Moore has certainly taken a social gospel approach to the subject of homosexuality, touting the issues of homosexual homelessness and rejection. This is nothing new to Moore, who seems to take great interest and enjoyment in the polite applause from secular media and religious leftists. Remember, this is the guy who said he'd happily attend a gay wedding reception (source link).
And so, because of Moore's apparent "shift in posture" towards homosexuality, Level Ground is excited to hear from Karen Swallow Prior ( research fellow for the ERLC) "further discuss this posture" at her second appearance at the gay film fest. Interestingly, some in social media like Greg Smith were calling out for prayers for Prior as she gave the "non-affirming view" of homosexuality at the event. However, it appears from the perspective of Level Ground that she was coming to discuss why the shift in posture they're excited about was happening, and to discuss the importance of civility in dialogue. Audio for that even has not yet been released.
Whatever is happening at the ERLC, one thing is for sure – homosexuals seem to dig it. They seem to really, really dig it.
I'm sure that's a good sign. Right?
[Contributed by JD Hall]