Foolish, Ignorant Controversies
2 Timothy 2:22-26  "So flee youthful passions and pursue righteousness, faith, love, and peace, along with those who call on the Lord from a pure heart. Have nothing to do with foolish, ignorant controversies; you know that they breed quarrels. And the Lord's servant must not be quarrelsome but kind to everyone, able to teach, patiently enduring evil, correcting his opponents with gentleness. God may perhaps grant them repentance leading to a knowledge of the truth, and they may come to their senses and escape from the snare of the devil, after being captured by him to do his will."
[dropcap]T[/dropcap]he meteoric rise in social media has enabled folks from around the globe to exchange information and converse, both audibly and visually, with great ease.  As the platform has continued to grow and mature, developers have simplified its usage to the point where even those with the most basic of personal computing knowledge and/or extreme time limits, may quickly and easily engage their not so geographically close peers.  Of course, it is likely that none of this information is new to anyone reading this article.  Rather than crafting yet another piece lamenting the many reasons why social media is destroying our culture, faith communities, families, etc., I want to instead focus on a Biblical issue to which the widespread adoption of social media has contributed.
To be clear, my goal in this article is not to engender unfruitful controversy, rather, to speak against that very issue.  Based on some of my past writings, that may sound to some like a highly hypocritical statement to make; and if it were devoid of genuine repentance, I would agree with those of you having those thoughts.  Thankfully, we serve a mighty and powerful and grace-filled God who grants forgiveness.  We serve a God who sent his son to be slaughtered on a Roman tree on behalf of hypocritical sinners like you and me.  Our God is great!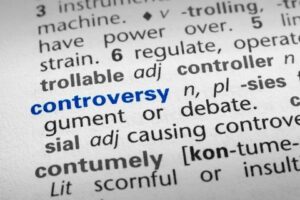 As a relatively young man myself (I think 34 yrs old is young anyway), I know what zeal feels like, I experience it every day.  When your appetite for Scripture and all its truths is ravenous, it is tough to ensure your zealousness does not drive you off a theological cliff, leaving in your wake a smattering of smoldering relationships and public disgraces of God.
This, brothers, is why Paul wrote to Timothy, "So flee youthful passions and pursue righteousness, faith, love, and peace, along with those who call on the Lord from a pure heart" (2 Tim 2:22 [ESV]).  Please understand, I am writing this article in the spirit of Proverbs 27:6 which says, "Faithful are the wounds of a friend; profuse are the kisses of an enemy."
I want to briefly focus on the phrase "flee youthful passions".  The NASB translates this to "flee from youthful lusts" and I think that more effectively communicates the nature of what he is speaking.  Of course when one reads the word "lusts", the natural assumption is that one must flee from sexual desire.  While that is one example of lusting, the lusts of which Paul speaks are much more than sinful sexual desire alone.  They also include pride, craving for wealth and power, inordinate ambition, jealousy, envy, an argumentative and self-assertive spirit, among others.[1. MacArthur, John. "A Pure Heart." The MacArthur New Testament Commentary: 2 Timothy. Chicago: Moody, 1995. 93. Print.]
So, as faithful Christians, we are to be perpetually fleeing these youthful lusts and continually running from these sinful passions that began when we were young.  Further, we should be perpetually pursuing righteousness, faith, love, and peace.  With that context in mind, we move to 2 Tim 2:23 where Paul commands Timothy to, "Have nothing to do with foolish, ignorant controversies; you know that they breed quarrels."
Bombshell.
Be honest with yourself, have you done everything you can to abstain from being involved in foolish, ignorant controversies?  I know I haven't.  However, if you're like me, you weren't necessarily seeking out those controversies, rather, your zeal for Truth and the defense thereof made you rightly intolerant of all the absolute nonsense taking place in American Evangelicalism.  Does that excuse the behavior?  Of course not.  However, what seems to perpetuate many of these quarrels is not only the out-of-control zeal of us younger brothers, but the lack of Biblical understanding, guidance, and correction from the older brothers who assume the younger merely "love the fight".  For some that may be true, but I say with confidence that for most, that's not true at all; the "fight" is tiresome and lacks any hint of biblical edification.  In reality, we have a love of the truth, a love for Christ and His bride, and a seemingly unquenchable zeal to see her defended in the face of modern-day false gospels and heresies in the American church.
This is why we must be so careful with our social media interactions.  It has never been easier to offend so many people in so short a time.  Further, it has never been easier to look like fools in front of an unbelieving world by publicly airing our dirty laundry (secondary issues).  The last three or four months alone have produced half a dozen or more arguments between brothers that have been downright nasty, absolutely vicious, and all played out on an incredibly public stage; one that never goes away.  Is this what the Holy Spirit had in mind when he wrote through Paul, "Have nothing to do with foolish, ignorant controversies; you know that they breed quarrels."?  It would certainly seem that way.
John MacArthur said:
"A vessel of honor to God (the man described in 2 Timothy 2:22) must develop a discerning mind.  An unguarded mind, even of a believer, is subject to deceit, misunderstanding, and confusion, which inevitably produce false doctrine and sinful living.  The undiscerning mind is 'tossed here and there by waves, and carried about by every wind of doctrine, by the trickery of men, by craftiness in deceitful scheming' (Eph 4:14)."[2. MacArthur, John. "A Discerning Mind" The MacArthur New Testament Commentary: 2 Timothy. Chicago: Moody, 1995. 95. Print.]
Part of having a discerning mind is to discern if a disagreement or quarrel is fruitful for the Kingdom of Christ or merely foolish quarreling.  Paul writes in 1 Tim 1:3-6, "As I urged you upon my departure for Macedonia, remain on at Ephesus so that you may instruct certain men not to teach strange doctrines, nor to pay attention to myths and endless genealogies, which give rise to mere speculation rather than furthering the administration of God which is by faith. But the goal of our instruction is love from a pure heart and a good conscience and a sincere faith. For some men, straying from these things, have turned aside to fruitless discussion."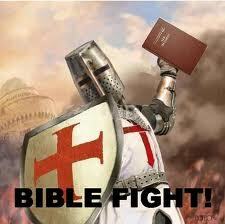 Paul is directing Timothy to absolutely correct those teaching false doctrines and sliding off into myths but that the goal for that instruction is love from a pure heart.  But to get into endless discussions and debates with these men is nonsensical because it will in no way lead to anything edifying for believers of the church.  In fact, he admonishes the young pastor to warn those under his care "not to wrangle about words, which is useless, and leads to the ruin of the hearers" and to "avoid worldly and empty chatter, for it will lead to further ungodliness, and their talk will spread like gangrene" (2 Tim 2:14-17).[3. MacArthur, John. "A Discerning Mind" The MacArthur New Testament Commentary: 2 Timothy. Chicago: Moody, 1995. 96. Print.]
Of course, in no way is Paul advising believers avoid all discussion of faith and therein all related controversy.  He spent a considerable amount of time as he went city to city presenting and defending the Gospel.  For instance, Luke records that in Thessalonica Paul, "for three Sabbaths reasoned with them from the Scriptures." (Acts 17:2)  In fact, the word dialegomai is used in Acts 17:2, Acts 18:4, Acts 18:19, and Acts 24:25 and is where we get the English word "dialogue."  Thus, it becomes obvious that Paul is not speaking against responsible conversation regarding theology and Scripture with believers or even the unsaved.
Rather, Paul forbids speculations, fruitless and unproductive debates that produce quarrels. Such speculations are not only worthless but are ungodly.  They question Scripture, distort the truth, create doubt, weaken faith, undermine confidence in the Lord, often lead to compromise of convictions, and produce quarrels.  Earlier in this very chapter, the apostle commanded Timothy to "solemnly charge [believers] in the presence of God not to wrangle about words, which is useless, and leads to the ruin of the hearers" (2 Tim 2:14).[4. MacArthur, John. "A Discerning Mind" The MacArthur New Testament Commentary: 2 Timothy. Chicago: Moody, 1995. 97. Print.]
I have no doubt some of you brothers and sisters are reading this thinking, "I knew it, Landon has gone soft!"  In the eyes of many overzealous brethren, maybe I have.  However, I'd like to think as I pray for the wisdom I lack (James 1:5), God began a work in me to transform my mind to the gentle manner spelled out in 2 Tim 2:24.  Jesus was the very epitome of gentle and he said of himself in Matthew 11:29, "Take my yoke upon you and learn from me, for I am gentle and humble in heart, and you will find rest for your souls." Further, in the second letter to the Corinthians, Paul reminded them, "I, Paul, myself entreat you, by the meekness and gentleness of Christ—I who am humble when face to face with you…"
Am I advocating the American Evangelical idea of a sissified, needy Jesus?  Of course not!  But, as much as we are to speak boldly for the Lord without compromise, we are to do so with an attitude of meekness, gentleness, and humility.  We are never to be harsh, abusive, overbearing, unkind, thoughtless, or pugnacious.  There is to be a softness in the authority of a Christian leader, just as there was in Paul's and in the Lord's when He was on Earth.  "But we were gentle[a] among you, like a nursing mother taking care of her own children" (1 Thess 2:7).[5. MacArthur, John. "A Gentle Manner" The MacArthur New Testament Commentary: 2 Timothy. Chicago: Moody, 1995. 98. Print.]
With that in mind, I want to be very clear and I'm going to use a MacArthur quote to make this point.  "Meekness has no relation to weakness but denotes power that is under willing control."  Putting on a disposition of meekness does not preclude your boldly standing for Truth, but it does preclude arrogance from ruining your witness and conformity to Christ.  Art Azurdia observes, "Certain kinds of warfare breed certain kinds of casualties."  Mind your tactics brethren, mind your tactics.
In Revelation 2:2-6, Jesus says to the church in Ephesus, "I know your works, your toil and your patient endurance, and how you cannot bear with those who are evil, but have tested those who call themselves apostles and are not, and found them to be false.  I know you are enduring patiently and bearing up for my name's sake, and you have not grown weary.  But I have this against you, that you have abandoned the love you had at first. Remember therefore from where you have fallen; repent, and do the works you did at first. If not, I will come to you and remove your lampstand from its place, unless you repent.  Yet this you have: you hate the works of the Nicolaitans, which I also hate."
In verses 2-3, Jesus exhorts the Ephesians for bearing up for his name's sake and not growing weary.  He commends them for their works, toil, and patient endurance.  However, he goes on in Rev 2:4-5 to lovingly rebuke the Ephesians for abandoning "the love you had at first."  As they've fought for truth, they have over time lost the humble, gentle, meek, and loving spirit Christ exhibited during his time on Earth.  He goes on to command their repentance lest he, "remove your lampstand from its place."  Further, in verse 6, Jesus identifies with the Ephesians hatred of the false teachings and works of the Nicolaitans.
But, if one is not careful, over the course of time what happens is that you eventually come not to just hate the work of the Nicolaitans… you hate the Nicolaitans.  Brothers, this is a most grievous error.  Do not come to "love the fight" so much that you hate the lost and seek them to be destroyed by your superior knowledge.
Should we still guard against error and false teaching by proclaiming truth and speaking against wolves?  Of course.  May we disagree with our brethren on secondary issues without proclaiming them unsaved?  Of course.  But let's remain respectful, meek, and gentle when we partake in those activities.  We do not glory in the destruction of wolves, rather we grieve over their lost souls.
Let's honor and glorify our most glorious Savior, Jesus Christ, by abstaining from these foolish, ignorant controversies.  Step back and ask yourself if the brotherly war in which you are about to engage will strengthen the bride of Christ by defending Truth or if it will serve merely as an easy way for you to scratch the itch of your youthful lusts.
Brothers, we're better than this, and He expects and deserves more from us.
Soli Deo Gloria.
[Contributed by Landon Chapman.  This post is also published at my personal blog.  You may leave your comments there.]