Caner Preaching Again…the video you have to watch
Ergun Caner, who lied about nearly every intricate detail of his life story –  and has yet to repent for it….
Ergun Caner, who  made racist and very, very profane and vulgar comments – and has yet to repent for it…
Ergun Caner, who resigned from his last job immediately when confronted with charges of adultery and "sexting" – and has yet to repent for it…
Ergun Caner, who is in the throws of a nasty divorce with his wife (which he filed) including filing a restraining order against her – and has yet to repent for it…
This Ergun Caner is still out there, on the preaching circuit, doing his stand-up comedy routine in the name of Jesus. If there was ever a man whose life seems to be indicative of the judgment of God, it is this man. And yet, he's still preaching.
Now, you might ask yourself "Who in their ever-lovin' mind would have a figure like Ergun Caner preach from behind their pulpit (cool churches don't have pulpits) at their church?
A man whose career took him states-away from his family
A man who has lived a separate life from his wife for literally years
A man who is a racist (his racial pejoratives to different ethnic groups have been widely documented, other than what was hyperlinked above)
A man who uses inexcusably foul language
An adulterer
A man who has filed for divorce from his wife
Why would this man preach at any church? Why would this man be invited to speak at any synagogue, mosque, temple, ToastMasters club or even Burning Man? And especially, why would he be invited to speak on fatherhood on Father's Day? It's truly astounding. Clearly, Caner is defiant toward God and God's judgment upon him.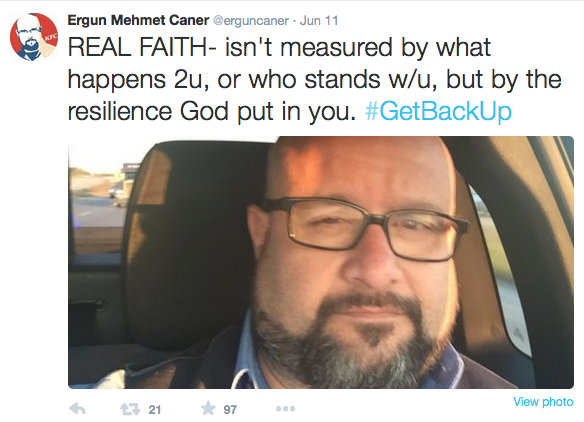 When Brewton-Parker hired Caner, they said they wanted him because he has withstood genuine calls for repentance from concerned Christians "relentless pagan attacks."  Of course, then they realized that repentance is kinda a big deal when he single-handedly crippled the enrollment at Brewton-Parker, made it the center of a race-scandal, brought about the termination of other employees embroiled in his adultery and racism affairs, and left it in gross disrepair. Caner fled, along with his Minister of Propaganda, Peter Lumpkins, and left Brewton-Parker in a mess from which they probably will not recover.
Well, Caner is till still withstanding these "pagan attacks." Caner tweets the above selfie of himself, credits himself with "REAL FAITH" and "resilience." Resilient, the man is. He is resilient towards shame, confession, and repentance. And sadly, there are twenty-one people on the planet who RT'd that steaming display of indifference and defiance toward repentance.

I don't know what God could do to the man (he also claimed heart-disease as a part of his now-debunked excuse for resignation and in court-documents explaining why he hasn't paid the judgments against him for falsely accusing Christian bloggers for copyright infringement when they posted videos of his lies online, but who knows if the heart-failure thing is true or not) except smite him.
What else could God do to make him humble except take him before His judgment? We tremble to think about what might be next for him. We wouldn't be surprised if the next stage in this terrible saga is period of time in which Caner lives naked in a field, eating grass with the cows. One wonders how low God might bring him.
And yet, folks over at the New River "Church" in Texas had Caner "preach" to them yesterday – on Father's Day. Because, you know…actually we're not sure why. We suspect it's because somebody knows somebody who might have done Caner a solid.
Starting with a lengthy live-performance of a song parody championing – or making fun of, defending upon your perspective – dads (song parodies are so radical, relevant and cutting-edge for seeker-friendly churches, amiright?), the folks then grabbed two dads from audience to play a Rock'em Sock'em Robots game that was lowered from the ceiling.
No. Really. We're not making that up.
/wp-content/uploads/newriver-caner.mp4
Concerning Caner's "sermon," it's nothing new. It's the same thing he always does; observational comedy. You know, he spends much of time with stand-up jokes about what it's like to be a dad. He left out the part about sexting another women, shaming your family with a false life-story, demonstrating defiance toward God and a little bit of racism thrown into that fatherly example.
Whatever Caner is, he's not a biblical preacher.
Whatever New River is – if this service is indicative of who they are – it is not a biblical Church.