Ergun Caner: The Best at What He Does
"I'm the best there is at what I do, but what I do isn't very nice." Wolverine
One of the most popular characters of the Marvel comic-book universe is Wolverine.  He is the ultimate anti-hero.  Wolverine's methods are questionable but he always gets results. He is a dark, brooding character that battles his foes with unstoppable force.  He is ferocious, tenacious, and nearly indestructible.  He is a fighter and he is simply the best at what he does.  Dr. Ergun Caner, like the Wolverine, is the best at what he does.  What Caner does it preach at revivalist youth gatherings.  According to his supporters Caner, like Wolverine, has withstood "relentless attacks."  He does not stand down from his critics but asserts that he is ready to "fight back."  Like Wolverine, Caner's character is questionable at best.  Like Wolverine, Caner has a mysterious and fictional back-story.   Like Wolverine, Caner is an anti-hero. Unlike Wolverine, Caner is a Baptist preacher…and he is all too real.  Like Wolverine, he seems to endure as a member of the evangelistic speaker circuit no matter what befalls him.  The reason for this is simple; the evangelistic speaking circuit is a money-making machine and Ergun Caner is a rainmaker.
Dr. Ergun Caner is a featured speaker for the June 26-29 session of the Laguna Beach Christian Retreat Hydrate Camp in Panama City Beach, Florida.  For "only $259 per person" attendees will be housed in accommodations "close enough to drive to all of the activities that Panama City Beach has to offer."  According to the hydrate website, conference attendees can look forward to "free time" attractions such as:
"The most beautiful white sand beaches in the world, Shipwreck Island Waterpark, Gulf World Marine Park, Ripley's Believe It Or Not, Wonderworks, Zoo World, Pirate Cruises, Shell Island and Dolphin Cruises, Go Carts, Putt Putt Golf, Shopping at Pier Park Outlets and the Panama City Mall."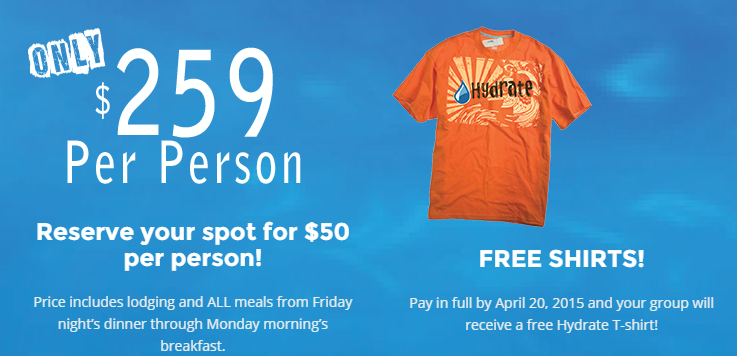 The Hydrate Camp advertises its theme as follows:
"What best describes your walk with Jesus? A water-drenched kid in front of an open hydrant or a cactus surviving in the desert sand on what little water it has? Every person knows what it means to be thirsty. If you deprive your body of necessary fluid, it will tell you. In the same way, if we deprive our souls of spiritual water, it will tell us as well. Dehydrated lives have a desperate thirst for something that is life-giving. So desperate it sends messages of worry, guilt, fear, hopelessness, resentment, loneliness, and insecurity.
But you don't have to live with a dehydrated life. God invites us all to treat our thirsty souls as we treat our physical thirst. The invitation is simple, "Come and drink deeply." This is the invitation He gave to the woman at the well in John 4:14 "but whoever drinks the water I give them will never thirst. Indeed, the water I give them will become in them a spring of water welling up to eternal life." This is the life-giving water that is not a one time deal. Do you believe it is time our churches learned how to drink deeply of God rather than splash around in the puddles of yesterday's revivals? If you do, then Hydrate is the beachcamp you want your students walking into. We don't think a great summer camp is measured within days of returning home, but rather months and maybe even years. Hydrate will challenge students to "Drink Deeply," and live a life of surge, where family and friends are confronted with the life-giving water Jesus offers.
If a student receives Christ's work on the cross, that student can be a water-drenched kid in front of an open hydrant rather than a surviving cactus in the desert. If you see the signs of dehydration in students, (worry, guilt, fear, hopelessness, resentment, loneliness, and insecurity) it may be time for some serious H2O!"
This is a camp for students and that's exactly why Ergun Caner is a featured speaker.  He is featured because he is the best what he does and what he does is preach to young people.  It does not seem to matter to the organizers of this Christian camp that:
According to Hydrate's info packet, Ergun Caner is "is now President at Brewton Parker College in Mt. Vernon, GA."  This is a false statement.  He was replaced months ago.  Nothing in Caner's bio on the hydrate info packet mentions the numerous scandals in which Ergun Caner has been involved.  Perhaps the conference organizer, Scott Dawson, doesn't think parents, students, and youth ministers will check up on the backgrounds of his featured speakers.  Perhaps they will be too busy adding up their referral points.  For every conference attendee that a youth minister registers for the conference, the minister will receive one point in Dawson's "MVP Program".  100 points rate a $50 Olive Garden gift card.  $200 points rate 100 "Disney Dollars."  400 Points rate Beats by Dr. Dre Headphones.  One would think that a youth minister would be under the moral compulsion to do what is best for those under his pastoral care without the offer of referral bonuses.  Yet such rewards are offered.
That's right, this "Christian" youth camp, put on by a non-profit ministry organization, pays youth ministers a bounty for every student and chaperon they register at the price of $259 a head.  This summer, there will be two camp sessions at a campus which contains "90 family-style units."  If each unit houses 10 guests, then 900 guests will attend each of the two camp dates.  That makes a total of 1,800 guests.  At $259 per guest, the conference organizers will take in $466,200 in revenue…for 8 total days of youth camp.
If the attendees like the featured speakers and bands, they may just be back next year, and the next year, and the next year, and the next year…
Christian parents, please wake up to the industry that is putting on Christian youth camps.  You and your children are marks and camp leaders are enticing your own youth ministers with referral bonuses to bring your kids in to hear wicked men like Ergun Caner.  To make matters worse, they do it the name of the Lord.
What could be more despicable?
[Contributed by Seth Dunn]
*Please note that the preceding is my personal opinion. It is not necessarily the opinion of any entity by which I am employed, any church at which I am a member, any church which I attend, or the educational institution at which I am enrolled. Any copyrighted material displayed or referenced is done under the doctrine of fair use.