Alex Malarkey penned his open letter to Lifeway on January 15, nearly a month and a half ago. The letter was soon printed in virtually every major media outlet in the western world (and beyond, as far as the South China Morning Post, in fact).
Alex bled his heart out to Thom Rainer and the executives of Lifeway, pleading with them to consult the Scriptures and to stop selling Heaven Tourism. And then there was the added revelation, that renowned apologist Justin Peters pled with Thom Rainer and Ed Stetzer in May of 2014, urging them to pull Alex' book because it had been recanted. Stetzer and Rainer, of course, have not acknowledged that post (in spite of it receiving thousands of shares and being cited in the Christian Post and other media outlets). The silence has been deafening, other than a patently false statement from Lifeway spokesman Marty King that Lifeway had only found out in January the book was false (King has been contacted several times by the Pulpit & Pen, and he refuses to give further comment).
In short, Thom Rainer, Ed Stetzer and Lifeway in general just doesn't feel that this young man deserves any kind of response to a heartfelt open letter – and in spite of the overwhelming press coverage – have chosen to thumb their nose at the courageous young man. And to think, these men speak and write books on the topic of leadership…
A wealthier, more prominent cash-cow of Bashan for Lifeway received an almost-immediate response from Rainer just this week, to her own open letter to Lifeway. In a gushingly thankful letter for their years of parter$hip, Beth Moore thanks Rainer and company for their support and kindness. The letter recalls the humble beginnings of the partnership between Lifeway and who is now the most prominent preacher of their literary collection, as Beth was on the eve of being flown in to enjoy a banquet and night of being wined (well, probably not real wine) and dined in the name of Christian consumerism.

How long did it take for Rainer to respond to Beth's open letter? It was almost instantaneous.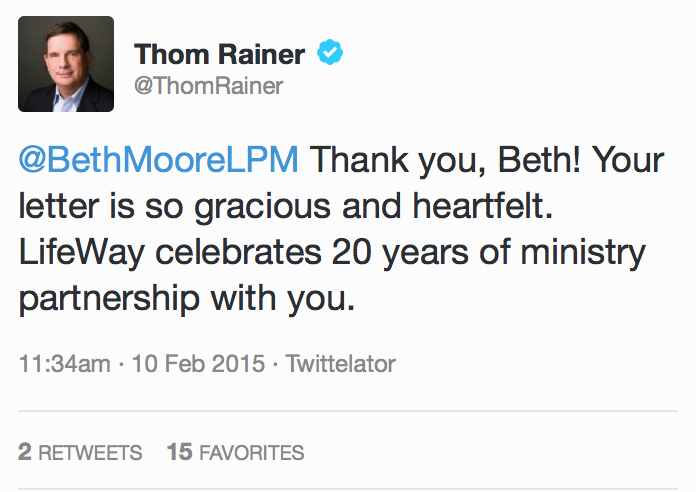 And, of course, Stetzer RT'd Beth's letter within just a few moments as well. That's interesting, considering thousands of people tweeted Alex's open letter directly to Thom Rainer and Ed Stetzer. Have they responded to the young man? Of course not. His money making days for Lifeway are over. Forget that kid.
Leadership.
Integrity.
Shame.
Do You Want To STOP the Modern Day Downgrade?
Subscribe Today...
Stay informed. To subscribe, simply enter your email address below.
Also, please add newsletter@pulpitandpen.org to your contacts to ensure that your newsletter doesn't go into your spam folder.
Enter your email address below…

"Daily, the work at Pulpit & Pen is filling the void of places where 100 men once stood and that is not an exaggeration. Day in and day out, they tirelessly vet offerings and influence of ministries around the world that they may guard the little sheep from the least to the most damning of errors. This is hard, unappreciative and alienating toil...
"JD Hall and his contributors such as Seth Dunn, are almost single-handedly leading the way in a rescue attempt of conservative Evangelicalism and especially the Southern Baptist Convention."
-Alex A. Guggenheim
Today we ask you to defend Pulpit & Pen's independence.
We're a non-profit that depends on
donations
to stay online and thriving.
Please consider making a donation of $5, $20, $50 or whatever you can to protect and sustain Pulpit & Pen.
Thanks,
JD Hall
Pulpit & Pen Founder
Click here to invest in discernment ministry
.