Is this the WORST book Lifeway sells? UPDATED 1 and 2
We at the Pulpit and Pen have been involved in a few skirmishes as of late with Thom Rainer and Ed Stetzer. Much of it stems from our sustained efforts to call attention to some of the  theologically atrocious books that can be found in the Lifeway bookstores, particularily offerings from modalist TD Jakes, books on Heaven Tourism like  "90 Minutes in Heaven", mysticism like Circle Maker, and a host of others.
Our plea is simple: Lifeway is designed to be the publishing arm of the SBC and ought to be committed to providing sound doctrine as a hallmark of its mission statement. Not only this, but when Christian brothers and sisters point out books with problematic theology out to them, they should thank them, talk to them, and make every effort to investigate the situation and right the wrong.
Over the last few months many people have tweeted to Thom Rainer, President of Lifeway, asking him why Lifeway sells certain books with wicked and mischievous content . Thom Rainer has not seen fit to reply to any of these questions and has instead chosen to ignore anyone raising the issue. Given that this man has decided these questions are not deserving of answers, and betraying a lack of leadership and integrity when it comes to his personal responsibility for safeguarding and promoting sound doctrine to his neighbors, our attention turns to Ed Stetzer.
According to Lifeway "Ed Stetzer oversees all activities of the LifeWay Insights division, including LifeWay Research, Corporate Communications and Ministry Development. In this role, he also works with LifeWay's president to assess opportunities that come directly to the CEO's office and serves as chief strategic executive leader to discover new ministry opportunities."
Earlier yesterday, in response to another tweet, JD had a chance to ask Ed Stetzer several times why Lifeway continues to knowingly sell certain books with bad theology.

Myself and a few others also echoed that question, against the accusation of JD Being undiscerning.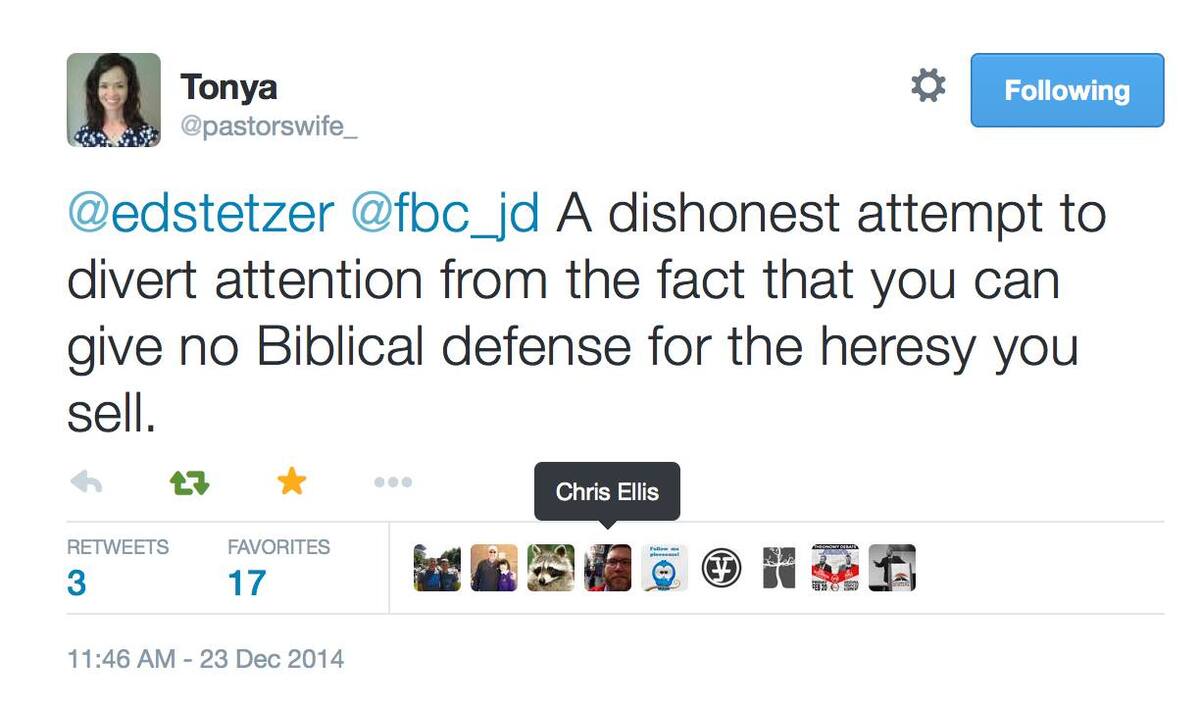 This is not the first time Ed Stetzer has been confronted and asked about the theological soundness of certain Lifeway titles, and yet anyone seeking for a thoughtful response – or even a response of any kind, will find themselves wanting and waiting. In an unfortunately predictable display of evasion and failure of leadership, Ed Stetzer engaged in a brief back and forth, made personal attacks towards JD, and refused to answer or even acknowledge the question.


In response, Tim weakly offered a plea which well summarized many of our feelings on the matter.

As a brief aside, it's also interesting to watch Ed Stetzer and famous book reviewer and blogger Tim Challies converse back and forth on Twitter, when Tim has reviewed and publicly excoriated many of the books that Lifeway sells and promotes, such as Mark Batterson's Circle Maker, which Tim concludes:
" The Circle Maker is a mess. I admire Batterson's desire to pray boldly and love his call to more prayer, better prayer, more audacious prayer. Yet so much of what he teaches is sub-biblical, extra-biblical or just plain unbiblical. With hundreds of good books on prayer available to us there is absolutely no reason to spend as much as one minute or one dime on this one."
Apparently Ed Stetzer and Thom Rainer disagree with Tim Challies, and instead view the book as being sound as soundness comes. Why else would this book and its half dozen iterations be Lifeway mainstays for several years?
But it's with that background that I present to you what I believe is probably so far the WORST BOOK I have found being sold by Lifeway. I say "so far" because  I found this in under 5 minutes of perusing, and knowing Lifeway and the lack of attention and discernment they use in deciding which books to sell,  I have no reason to doubt there aren't a ton more books like this being sold for that sweet, sweet lucre.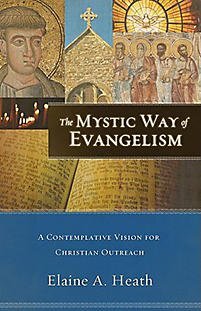 The book is The Mystic Way of Evangelism: A Contemplative Vision for Christian Outreach, by Elaine A. Heath.
For anyone wondering, Elaine A. Heath is a self-proclaimed Mystic, Prophet, and Christian Universalist. She spent several years pastoring United Methodist churches and is now, still an elder in the United Methodist Church. She is also a Professor of Evangelism at Perkins School of Theology, SMU. She sells several books at Lifeway, another of which is The Gospel According to Twilight: Women, Sex, and God
But from the book's description:
"Elaine Heath argues that the church is in a dark night of the soul. It has thus lost its prophetic voice–its effectiveness in proclaiming the good news of redemption. Rather than resisting or decrying this state of affairs, the church, says Heath, ought to embrace its situation as a starting point to renew its vitality and consequently, its witness. A solution is proposed in the wisdom and contemplative spirituality of the great saints and mystics–people such as Julian of Norwich, Ignatius of Loyola, Phoebe Palmer, Henri Nouwen, and others.
This book brings fresh insights to the theory and practice of evangelism by examining it through the lens of the classic threefold path of purgation, illumination, and union. Different ways of thinking about evangelism are drawn from the lives and teachings of the mystics, and different ways of practicing evangelism are then proposed via narrative theology. The result is a holistic perspective, offering a corrective to programmatic and consumeristic forms of evangelism so prevalent today. Here is a unique contribution to the discussion on evangelism in our postmodern world."
Now…to address just one of the many things wrong with this book…it would do us well to ask who exactly is this Ignatius of Loyola whose wisdom we should cull and greatness and contemplative spirituality we should hope to aspire to in order to get a vision for Christian outreach?
In short, Ignatius was devout Roman Catholic who founded the Jesuits, became their first superior General, emphasized absolute obedience to the pope, and emerged as a Roman Catholic hero due to his opposition to the Protestant reformation and the leadership he gave his Jesuits who lead the counter-reformation.
Lifeway sells this book. The publishing arm of the SBC sells this book with nary a warning or caution that perhaps the content might not be the best. Given this little revelation, I have a few suggestions and pleas for Ed Stetzer and Thom Rainer. I hope you will read it as it will doubtfully be tweeted to you both dozens of times, will you…
1. Will you stop selling this book at Lifeway?
2. Will you engage and have conversations with people like me and JD Hall and others about the value and theological virtue of other books you carry, such as TD Jake's books, books on Heavenly Tourism, this book here, and others without personally attacking us?
3. Will you admit that there are some pretty terrible books still being sold at Lifeway and that instead of ignoring, dismissing, and castigating the people who pointed these out to you, that you should have thanked them for their care and concern, and will endeavor to do so in the future?
[Contributed by Dustin Germain]
Update #1
In response to this post, instead of posting any sort of acknowledgement from Ed Stetzer regarding our concerns-that the books we mentioned might not be the best books, or that he agreed that the specific "worst book" I mentioned truly does sound awful and he would see what he could do, or even any public acknowledgement that that the question and comments were even asked, he instead chose to fire off a few pointed and passive-aggressive quotes our way, shown below.
Attacking people with ad-hominems and personal assaults, who are urging you to do what you can to help other believers, is not indicative of what true leadership should look like.
Update #2. Lifeway has pulled the book and is no longer selling it! Here is a link to more on that