How to Make Pedestrian News and Get Thrown Out of an Episcopal Church
"Not everyone who says to Me, 'Lord, Lord,' will enter the kingdom of heaven, but he who does the will of My Father who is in heaven will enter. Many will say to Me on that day, 'Lord, Lord, did we not prophesy in Your name, and in Your name cast out demons, and in Your name perform many miracles?' And then I will declare to them, 'I never knew you; depart from Me, you who practice lawlessness.'" Matthew 7:21-23
Given that the First Amendment of the Constitution of the United States of America prohibits the establishment of a state religion, civically-informed Americans might be surprised to learn that there is a National Cathedral in Washington, DC.  From its name, this building sounds like an official venue for Christian ceremonies sponsored by the United States Government. However, much to the chagrin of the historical revisionist crowd (as represented by Oral Roberts University graduate, David Barton) the United States engages in no such official activities.  The National Cathedral is "national" in name only.  In reality, the National Cathedral is a simple Episcopal Church like any other and is so named because of its location in the capital city of the United States.   While the cathedral has hosted a number of inaugural prayer services and presidential funerals, it is in no way an official Christian venue of the United States of America.   It just appears to be such when it is making headlines.   Recently, the National Cathedral made headlines for hosting a Muslim prayer service.  When it did so, through the magic of click-bait headlines and the tragedy of a theologically ignorant American populace, no news became news.
Consider the state of the Episcopal Church in America.  It abandoned biblical orthodoxy long ago.  Individual Episcopalian congregations which respect the authority of scripture have been breaking away from this most liberal of denominations for some time, even at the risk of losing church property.   At this point, nary a conservative bible-believing Episcopalian Christian remains in the American denomination.   The images below from the National Cathedral effectively demonstrate the pitiful state of the Episcopal Church.


The following wouldn't make for very shocking headlines among orthodox Christians with a basic knowledge of current denominational events:
"Episcopal Church Demonstrates Unbiblical Behavior"
"Masculine-looking women wrongfully serve in the office of Pastor at Episcopal Church"
"Homosexuals Profane Marriage in the Episcopal Church"
NBC news, among other news outlets has come out with a recent headline that has apparently shocked many: "National Cathedral Holds First Muslim Prayer."  This headline sound absolutely shocking to the uniformed observer[1].  Look for the following indignant comments on a Facebook feed near you:
The National Cathedral hosted a Muslim prayer service!  The Muslims finally taking over America!  Barack Obama is really a Muslim after all!  Muslims won't take over this Christian Nation!
Here's another shocker[2] of a headline: "Franklin Graham condemns Washington cathedral for hosting Muslim prayer service."  That's right; Billy Graham's son does not like Muslims praying at a church and it's made the Christian news.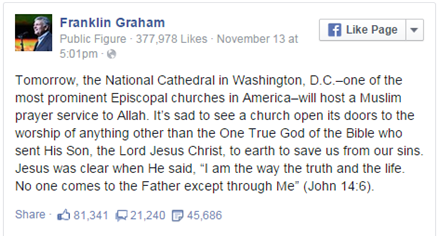 Franklin Graham was rather indignant.  So, too, was one bold American Woman.  Both NBC News and Christianity Today report that a woman from Michigan, who did provide her name, was thrown out of the National Cathedral for boldly proclaiming the gospel.   NBC News reports that:
 "A Muslim prayer service being held at the Washington National Cathedral for the first time was briefly disrupted by a protester Friday afternoon.
'Jesus Christ died on that cross over there!' a woman said loudly, immediately after beginning announcements were made. 'He is the reason why we are to worship only him. Jesus Christ is our lord and savior!'"
The woman was removed from the National Cathedral…for proclaiming Christ as Lord to lost people.  The simple truth is that an allegiance to the Lord Jesus Christ was removed from that cathedral long ago.  This was to be expected.  Once again, this woman's removal is not news to anyone with even a cursory understanding of the stance of the Episcopal Church.  The rebellious female rector at the National Cathedral is perhaps as lost as the Muslims she allowed to pray at her church.
Franklin Graham likely knows this.  Yet, he took the time to make headlines anyway.   Perhaps one day the time will come when prominent Christian leaders like Franklin Graham step out on faith to decry the Downgrade that is taking place within America evangelicalism.  For now, he will only decry the actions of lost denominations that apostatized long ago while.  It's politically, easy from the evangelical right, to condemn Muslims and Episcopalians.  Consider Franklin Graham's comments above in juxtaposition to the 2012 Presidential endorsement that Mitt Romney, a Mormon, received from Billy Graham.  Before the last presidential election, the elder Graham said to Romney, "(I will) do all I can to help you."   Mormonism is one of the vilest evils on God's green Earth and it was originally bred on American soil.  Billy Graham endorsed putting a Mormon in the White House.  After Billy Graham's endorsement, Humanevents.com reported the following:
"Close Graham followers say his son and heir apparent, the Rev. Franklin Graham, has influenced him in his latest moves. 'I think that Franklin has an influence in there,' Billy Graham biographer William Martin said. 'But I can't say … that he is leading his father to do something that he's not willing to do.'"
"Like a dog on a chain, He ain't got no name, But it ain't him to blame, He's only a pawn in their game." Bob Dylan
The time has come to resist the influence of opportunisitc national "Christian leaders" like Franklin Graham.  He will not condemn the evangelical right for supporting Mormon politicians but will take politically safe shots at Muslims and leftist Episcopalians.  The time has come for God's people in the United States to stop being "Christian" Americans and start being "American" Christians.  Eschew the influence of nationally prominent Christian leaders who tickle your ears with speciously bold proclamations that appeal to your political sensibilities.  Rather seek the leadership of the pastor of your local church.  Pray, with your local body of believers, for repentance in the United States and abroad.  Pray that the Lord's kingdom come.
Don't be a pawn in a political game and an outraged consumer of click-bait headlines from the Christian media.  You were elected to be a priest and king.  Make your own headlines, they way they were made in the Book of Acts.
Maranatha.
[Contributed by Seth Dunn]

*Please note that the preceding is my personal opinion. It is not necessarily the opinion of any entity by which I am employed, any church at which I am a member, any church which I attend, or the educational institution at which I am enrolled. Any copyrighted material displayed or referenced is done under the doctrine of fair use.
[1] By "uniformed observer" I refer to any American Evangelical Christians who thinks that any building with a cross on it is rightly equates to a church.
[2] Please excuse my sarcasm.