Rick Warren Calls Pope "Holy Father"
"We rejoice that the Holy Father has captured the world's attention and so much good will for the Christian faith!…You have written so powerfully, Holy Father, of the importance of a new evangelization within the Church: "An evangelizing community gets involved by word and deed in people's daily lives; it bridges distances, it is willing to abase itself if necessary and it embraces human life, touching the suffering flesh of Christ in others."
This is a statement produced by the Roman Catholic Church, entitled "A Letter to the Third Extraordinary General Assembly of the Synod of Bishops." It was signed by Rick Warren.
Yes, you read that right. Rick Warren – Southern Baptist, Protestant, Evangelical – signed a statement calling the Pope "Holy Father," and promoting the Catholic Church's "new evangelization." Today, we see that Warren called the Pope – with his own mouth – Holy Father.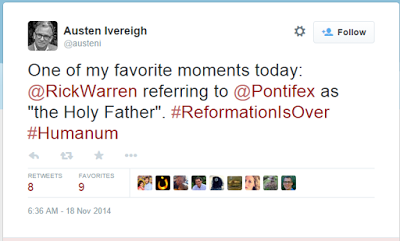 Ivereigh, a Roman Catholic journalist, apparently thought it was great that Warren would refer to the Pope in this way, and inferred from it that the "Reformation is Over." For some, perhaps…
Keep in mind that Warren, earlier this year, referred to the Pope as "our Pope." Someone should inform Rick that Protestants don't have Popes. In fact, our confessions consider him to be the spirit of AntiChrist.
"Let my readers understand that I am here combating that opinion with which the Roman Antichrist and his prophets have imbued the whole world—viz. that the mass is a work by which the priest who offers Christ, and the others who in the oblation receive him, gain merit with God." – John Calvin

Danny Cortez and his church were recently (and rightly so) removed from the SBC for trying to find a "Third Way" on the topic of homosexuality. What Warren has done in blaspheming God and forsaking sound doctrine in calling the Pope this treasonous title, is easily as in opposition to the Faith and Message as Cortez' capitulation on homosexuality. Will Warren be quickly removed in the same fashion (the answer is no; doctrine simply doesn't matter in the SBC)?
Also, keep in mind that Rick Warren was the keynote speaker for the 2014 Southern Baptist Convention. We know how to pick 'em, I tell you what. I guess we discernment guys are just nobody to listen to.
JD will discuss this on Thursday's program.