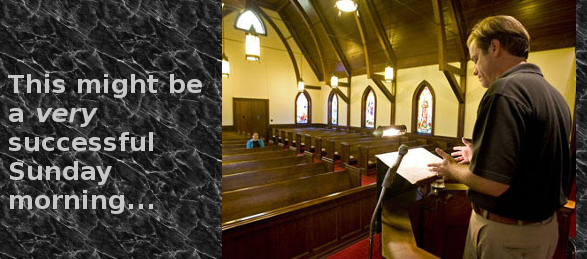 This morning, I was looking at a job listing for "Senior (Lead) Pastor" at a church on the east coast. (Don't worry; I'm just on some mailing lists. I'm not looking for a new church!) The church's doctrinal statement is excellent, and the requirements for the position were exacting and biblical.
Some of the things they are asking for are (in addition to meeting qualifications in 1 Timothy 3/Titus 1):
Must be able to provide a pulpit ministry that expounds the complete scriptures of God through doctrinally sound, expository, grace-oriented, and life-application preaching and teaching.
Will exhort the congregation to incorporate scriptural teaching and prayer in their daily lives.
Will encourage and equip the congregation to grow in spiritual maturity.
Will be available for pastoral care of members and friends of the church.
Must possess a deep knowledge and understanding of scripture, its historical and cultural context, and its application to people today.
Must work well with diverse demographics and a multigenerational church family. This man must value the intellectual, cultural, and ethnic diversity and dynamic of the church family and community.
Must be committed long-term to the growth of Christ's kingdom, both in [city], and [state], and around the globe.
All excellent things to look for in a pastor. In fact, the job description & requirements were so well written that I grabbed a copy and pasted it into my e-sword study notes on 1 Timothy 3:1-13 for future reference.
But (you knew that was coming, right?) there was one thing that bugged me. One of the requirements was: "Must have a minimum of 5 years of successful ministry." Looking for experience is not a bad thing. It is that word "successful" that raised my eyebrows, and raised the question, "What is a successful ministry?
As Voddie Baucham said at the last Reformation Montana conference, we wrongly tend to judge success by size and numbers; How big is the church? How many members? How big is the building? How many Baptisms last year? How much and how fast did it grow? What is the annual budget? But is that how God measures success?
When God called Isaiah to be a prophet to Israel, He told Isaiah that nobody would listen to him. Isaiah 6:9-13 says: "And he said, 'Go, and say to this people: "'Keep on hearing, but do not understand; keep on seeing, but do not perceive.' Make the heart of this people dull, and their ears heavy, and blind their eyes; lest they see with their eyes, and hear with their ears, and understand with their hearts, and turn and be healed.' Then I said, 'How long, O Lord?' And he said: 'Until cities lie waste without inhabitant, and houses without people, and the land is a desolate waste, and the LORD removes people far away, and the forsaken places are many in the midst of the land. And though a tenth remain in it, it will be burned again, like a terebinth or an oak, whose stump remains when it is felled.' The holy seed is its stump."
Was Isaiah's ministry successful? Of course it was, because he did what God told him to do.
So, back to those job requirements; they are all Biblical?
Yes, they are. Oh, we could quibble over a detail here or there, but they really did a pretty good job of laying out the details of what "Preach the word; be ready in season and out of season; reprove, rebuke, and exhort, with complete patience and teaching," (2 Timothy 4:2) is saying. So, then, what is a successful ministry? It is a ministry that is faithful to do these things!
If a pastor faithfully studies and teaches the Word of God, then his ministry is successful. And it matters not if the church gets larger or smaller!
If a pastor, from the Word, rebukes, reproves, and exhorts those under his care patiently and lovingly, then his ministry is successful, regardless of how big the building is!
If a pastor clearly, completely, and continually proclaims the Gospel, then his ministry is successful, regardless of the number who came to saving faith under his preaching!
A successful pastor is a pastor who does what the Bible requires that a pastor do, and that success is not measured by the kinds and categories of numbers that seem to impress men.