Cruise with a Cause: Eddie Long, John Hagee, Ergun Caner, LeCrae, and Johnny Hunt Milk the Gospel Like a Cow of Bashaan
Not content to make their livings simply preaching God's word and providing spiritual guidance to the members of the congregations, many church pastors seek to further monetize their holy callings by participating in Christian travel offerings.  The business model is simple; pastors provide a base (their own congregation) who can purchase tickets from travel service providers in exchange for fees and free travel for themselves and their spouses.  Holy Land tours are the simplest and most harmless form of this phenomenon.  Pastors lead their congregations on tours of Israel, pointing out Biblically significant places and teaching Bible lessons along the way.  Congregations of almost any size can participate in such simple travel activity.  However, for really big events, really big Christian personalities are needed to draw a sizable crowd.  Thus megapastors often partner with other Christian celebrities to make the events happen.  This was the case with the 2011 "Cruise for a Cause" which was billed as "The Largest Foreign Mission Trip Ever."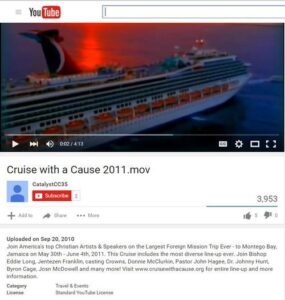 Featured cruise speaker, megachurch pastor, and former President of the Southern baptist Convention explains the nature of the cruise:
Hunt invites Christians to sail to Jamaica and preach the gospel to thousands of Jamaican students.  As a "mission trip" one might expect the travel accommodations to be Spartan and modest.  However, this is not the case according to an advertisement featuring Hunt's friend, Ergun Caner:
A Carnival Cruise ship was chartered to sail famous preachers and their fans to Jamaica for missions "history" (not quite how William Carey made it, to say the least).  According to the advertisements featuring Ergun Caner, cruise participants will experience the "food, fun, and fellowship of a cruse but with an incredible mission opportunity."  In other words, wealthy Americans can enjoy luxury like poor Jamaican students can't even imagine on a "mission" trip to go watch their favorite preachers do a "Jamaica Fest Crusade."  It's a shame the Apostle Paul had to endure such different conditions on his missionary journeys:
I have been on frequent journeys, in dangers from rivers, dangers from robbers, dangers from my countrymen, dangers from the Gentiles, dangers in the city, dangers in the wilderness, dangers on the sea, dangers among false brethren; I have been in labor and hardship, through many sleepless nights, in hunger and thirst, often without food, in cold and exposure. – The Apostle Paul in his 2nd Letter to the Corinthian Church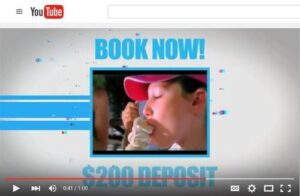 And surely the Apostle Paul couldn't have beaten the price, which was discounted to "under cost" for those who booked early.
According to Wikipedia, a Carnival Destiny-class cruise ship has a passenger capacity of 2,642.  Thus a sold-out ship at a cost of $500 per ticket would gross $1.32 million in revenue.  There's not telling how much poverty this amount of money could have alleviated in Jamaica in 2011.  Only the Lord knows how much money the featured Christian celebrities cleared at the end of their "mission trip."  Despite the features of servants and posh accommodations, it's and  highly doubtful that the Apostle Paul, who refused money for his ministry, would want to participate on a missions cruise (yes, a "missions cruise) with the rogue's gallery of Christian Celebrities who participated in this particular event.
Bishop Eddie Long

Atlanta residents will likely remember that megachurch pastor Eddie Long was accused of coercive sexual relationships with four young males under his pastoral care.  Long reached an out of court settlement with his alleged victims in 2011.

Ergun Caner

Ergun Caner was dismissed as Dean of the Liberty University Seminary after it came to light that he fabricated parts of his testimony, a testimony in which he claimed to be a former radical Muslim trained for Jihad on foreign soil.  After being exposed and losing his job at Liberty University, Caner was recommended to the board of a Georgia Baptist College by Johnny Hunt.   Amazingly, Caner obtained the job as President of that college, Brewton-Parker.  This was despite his being a party to an ongoing lawsuit in which he had sued fellow Christians for posting a video of Caner lying to the US Marine Core on YouTube.  Shortly after his appointment to Brewton-Parker, Caner was invited to preach at Johnny Hunt's church.  Not long after that, Caner resigned from Brewton-Parker after being investigated for incidents of racism and sexual misconduct.   Ergun Caner and his wife later filed for divorce, citing marital infidelity.

Jentezen Franklin

Franklin is a TBN-style Holiness Word-Faith preacher of "seed-sowing."  In addition to being associated with the preachers on this crusie, Franklin is a known associate of Joel Osteen, Steven Furtick, and Christine Caine.  Franklin was the convocation speaker at Liberty University on 02/05/2016.

John Hagee

John Hagee, a long-time TBN fixture, is the author of the false prophecy book Four Blood Moons.  Hagee is also closely associated with the Word-Faith movement.

Bishop Hezekiah Walker

Walker is another prosperity preacher and megapastor.  At Joel Osteen's "America's Night of Hope," Walker proclaimed, "We declare a power and authority on every church here in this area. We declare…the pulling down of strongholds. Every member of every church, we declare a prosperity miracle upon your life and on your pastor."

Lex Luger

Lex Luger is a professional wrestler.  It's his job to be fake.
The Island nation of Jamaica is poor and arguably gospel starved.  The last thing its impoverished people needed was a cruise ship full of wealthy American Christians, prosperity preachers, charlatans, and rap stars showing up on its beaches to party with John Hagee.
The "cause" of the Cruise for Cause cruise seems to be little more than turning a profit for Christian celebrities and providing entertainment for passengers.  This is to be expected from men such as Eddie Long who are clearly hirelings and proclaimers of the prosperity gospel…but what was the former president of the Southern Baptist Convention and one of the most respected men in evangelicalism, Johnny Hunt, doing there with his friend Ergun Caner and popular rapper LaCrae?  Apparently, he was getting a paid-for trip to Jamaica with some of America's rankest and vilest heretics and charlatans.
This matters on an everyday basis to thousands of Christians who trust men like Hunt.  Just this week, Marietta megachurch Roswell Street Baptist appointed former North American Mission Board "pastor for pastors" Michael Lewis as it's new pastor.  Lewis claims as one of his mentors none other than Johnny Hunt.  Lewis, the "pastor for pastors" claims Hunt as a mentor.  Hunt is certainly no stranger to favor from the North American mission board,  having received a $92,000 payment from that entity's outgoing President Bob Reccord (like Caner, Hunt's friend Reccord resigned his post amidst scandal).  The current President of the SBC, Ronnie Floyd, was once nominated for that office by Johnny Hunt.  The next President of the SBC may very well be megachurch Pastor, Steven Gaines, whom Hunt plans to nominate at the June 2016 Southern Baptist Convention.  If there are three things Hunt is close to they are: power, money, and controversial friends.  Maybe it's time for Southern Baptists to stop putting so much trust in a man with such questionable associations and poor judgement of character.  After all, Hunt was an integral part of a million dollar "missions" cruise to Jamaica.
Sadly…you just can't make this stuff up.
[Contributed by Seth Dunn, host of The Christian Commute]
*Please note that the preceding is my personal opinion. It is not necessarily the opinion of any entity by which I am employed, any church at which I am a member, any church which I attend, or the educational institution at which I am enrolled. Any copyrighted material displayed or referenced is done under the doctrine of fair use.