Johnny Hunt Recommended Caner to BPC Trustees, Says Hunt's Highest-Ranking Staff Person
Following on the heels of a public revelation that Johnny Hunt has invited Ergun Caner to speak  to his church (which itself is following on the heels of an email released in which Hunt acknowledges Caner's career of lies), we now have confirmation that a prominent staff member at First Baptist Church in Woodstock, Georgia claims that Hunt recommended Caner to the Brewton-Parker Board of Trustees to serve as their next president.
In an email released to the Pulpit & Pen, Executive Pastor and Hunt's highest-ranking staff person, Jim Law, told a concerned church member: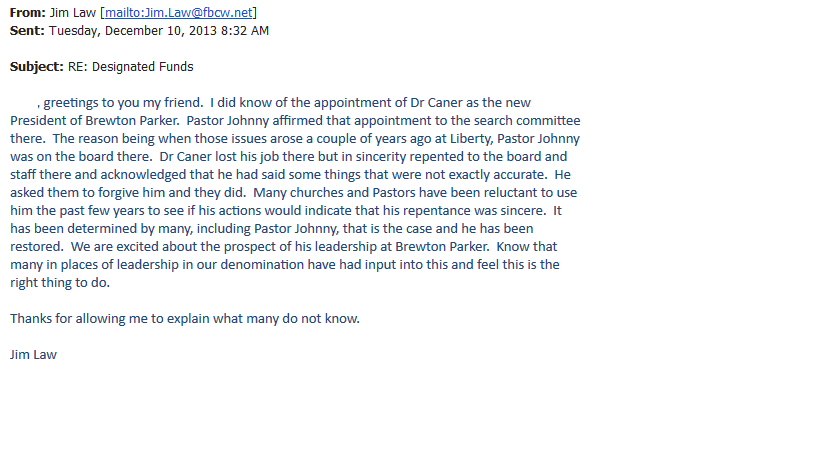 Again, this is Jim Law – executive pastor at First Baptist Church of Woodstock, Georgia – saying…
Pastor Johnny affirmed that appointment to the search committee there [emphasis mine]. The reason being when those issues arose a couple years ago at Liberty, Pastor Johnny was on board there. Dr. Caner lost his job there but in sincerity repented to the board and staff there and ackowledged that he had said some things that were not exactly accurate [emphasis mine]…
Also made available to the Pulpit & Pen is the comment from Johnny Hunt's official mentee, Adam Denny. When asked if he was privy to Caner's appointment at Brewton-Parker College said…

Well guess what? It just so happens that this information is corroborated by audio that the Pulpit & Pen has been sitting on for some time from a phone conversation between Brewton-Parker College's former "communications guy" (prior to Peter Lumpkins' appointment there), David Wallace and Pulpit & Pen contributing editor, Dustin Germain. The audio from this conversation and other conversations with Wallace will be included in the upcoming The Caner Project documentary.
A few things stand out here.
First, some still insist that Caner has done nothing wrong (like Tim Lee, Timothy Rogers, Tim Guthrie and Norman Geisler) except make confusing or "self-contradictory" statements. It seems that Hunt has acknowledged here that Caner at least had something to repent for, albeit only that Caner said things that were "not exactly accurate" (the understatement of the century). Please note that in private correspondence, Hunt is more forthcoming, saying to a concerned church member that Caner had lied and very much deserved to lose his job.
Secondly, one has to wonder in what ways Caner has repented, as Hunt concludes. Caner continues to say that he "never intentionally misled anyone" – a claim that has surely been disproven by the sheer number of lies told the same way over and over again in countless venus. He continues to sue fellow Christians for posting unedited videos of him tell these lies (and continues to lose in court). He continues to send out his sycophants (the most notable is now employed as Brewton Parker College's Vice President of Communication) to claim he has never lied. Does distinguished pastor Johnny Hunt really believe this is indicative of repentance? Apparently he does, recommending him to the board of trustees at BPC.
Speaking of "statements of fact that are self-contradictory," in additional emails provided to the Pulpit & Pen, Hunt claims he didn't recommend Caner to the board in spite of his mentee and executive pastor saying so.
Notice that although Hunt says he didn't "speak" to a committee member, he was "asked if I was satisfied with the way all was handled at Liberty" (so apparently in some capacity he conversed with the committee, whether a verbal conversation happened or not) and he could (and by the inference, did) commend him on that basis alone.
Also notice that Hunt uses the Timothy Rogers excuse, that he was "elected by a board of trustees" (albeit with Hunt's recommendation) and therefore passes the buck, saying "I suggest you take up your concern with them." That's some real integrity, right there.
Next, notice the accusation from Hunt that perhaps the church member who is concerned with Caner's career of lies and their pastor's unfortunate endorsement of unrepentant behavior might be all about Calvinism. Absolutely priceless, I tell you.
Finally, notice the common themes utilized among Caner defenders. First, Hunt suggests his church member follow the spirit of Matthew 18 (which is hard on the grounds that Caner doesn't attend FBC Woodstock and is unnecessary considering the sins of Caner are public record) and an accusation that even asking these questions is tantamount to a "battle of hate."
Johnny Hunt has some explaining to do concerning these things, in what can only be described as an unfortunate and inexplicable defense of the inexplicable. In tomorrow's post, I'll demonstrate the sheep-berating and shaming utilized by FBC Woodstock towards church members that dare question Hunt's loyalty to Ergun Caner.