Johnny Hunt Invites Caner to Preach at FBC Woodstock
You might remember an email leaking a few weeks ago from Johnny Hunt to a concerned church member at FBC Woodstock in which he says…
"I am aware of the videos and all charges you have mentioned. If I were to sin as Ergun has and been employed by FBC Woodstock I would repent publicly here and claim God's forgiveness. I, like Ergun, would be fired, [as] he was. It cost him dearly and I feel it has humbled him." 
Notice, these words from Hunt reveal the following:
(1) Pastor Hunt is fully aware of the videos (of Ergun's lies) and charges against Ergun Caner.
(2) From his awareness of the video and charges, Pastor Hunt is aware that Ergun has sinned [read that, lied about his life story countless times in hundreds of venues to thousands of people over the course of ten years].
(3) Pastor Hunt acknowledges that First Baptist Church Woodstock would have fired Ergun, had he been serving there.
Inexplicably, Pastor Hunt believes that Ergun has "been humbled." One must wonder if it's Ergun's refusal to publicly (or privately, so far as we know) admit his sin or seek repentance for his very public life of lies or perhaps his continuing lawsuit against fellow Christians for legally posting videos of his lies online that makes Pastor Hunt believe he's been "humbled."
Such a statement makes one wonder if Pastor Hunt understands Biblical repentance or if he just ignores the concept in dealing with his own circle of friends in the SBC.
Less than a month after this email revealing Pastor Hunt's private feelings toward Ergun Caner, First Baptist Church of Woodstock has now released their list of summer speakers…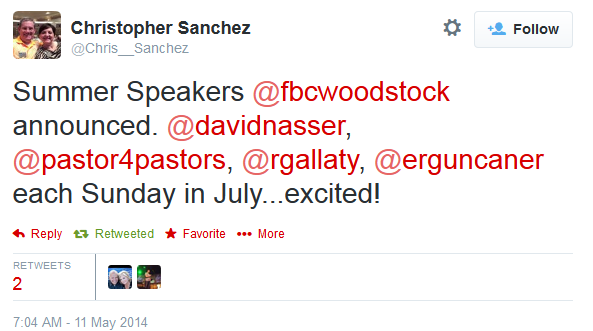 Can you imagine? Pastor Johnny Hunt – after saying that Caner should have been considered unfit for ministry at FBC Woodstock just weeks before – now invites Caner to preach to his church?
Make no mistake about it – this is a big, big deal for Ergun Caner. He has been in relative seclusion, preaching mostly at small summer camps and a few backwoods fundamentalist churches since his demotion at Liberty University. Being invited to speak at former president of the SBC, Johnny Hunt's church, is the equivalent of a celebrity exiting rehab. It is a "do-over." This is to be seen as a new beginning for Ergun Caner, a welcoming him back into the fold after a short exile in the wilderness as a penance for his sins.
Unfortunately, Johnny Hunt is not only subjecting his church members to a man who contrived a false life story and has yet to repent of it, he is demonstrating that what is preached at FBC Woodstock is not practiced by the pastor. Can there be restoration without repentance, Pastor Hunt? This is a question that members at FBC Woodstock should be asking their pastor.
I've put in a call to the office staff (678.494.2889 in case you'd like to call, too) of executive pastor, Jim Law. [AMENDED: Notice, this is not the honorable Louisiana Pastor, Jim Law, who has boldly insisted for integrity in the Louisiana College situation] I was told to expect a call back. That would be great, because the filming of The Caner Project is not yet complete and I can assure you that if this continues unabated, this will lead to Johnny Hunt receiving a starring role in the documentary. I would like that avoided, if at all possible.
For some reason, I'm not holding my breath.
God help the SBC.