The NewSpring Church Tithing Challenge
Sometimes, our articles write themselves.  This is one of those times.  Perry Noble's NewSpring Church has issued a 90-Day Tithing Challenge to its congregation.   According to the NewSpring website:
Because we believe what the Bible says about tithing, we commit to you that if you tithe for three months and God doesn't hold true to His promises of blessings (Malachi 3:10), we will refund 100% of your tithe. No questions asked. After you sign up, we'll send you resources and encouragement. We would also love to hear your story along the way—how is God blessing you after taking this next step in your walk with Him? Let us know by emailing giving@newspring.cc.
This is not a prank.  This is really a thing.  NewSpring will refund someone's tithes, no questions asked, if "God doesn't hold true to his promises."  In other words, if someone asks for a tithe refund he is telling NewSpring Church that God doesn't keep his promises.   This is an unashamed display of prosperity gospel false teaching.
For those church-goers that are too stupid to divide by ten, New Spring has provided a tithe calculator.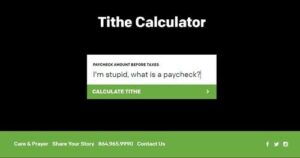 Incidentally, the tithe calculator is also for those church-goers stupid enough to participate in a tithe challenge…and go to NewSpring or The Venue Church, pastored by Tavner Smith, which has issued a nearly identical tithing challenge.  If you know anyone who attends NewSpring or Venue, please approach him, in love, with Bible in hand and explain to him why this Tithing Challenge is a sinful affront to God.
[Contributed by Seth Dunn, host of The Christian Commute]
*Please note that the preceding is my personal opinion. It is not necessarily the opinion of any entity by which I am employed, any church at which I am a member, any church which I attend, or the educational institution at which I am enrolled. Any copyrighted material displayed or referenced is done under the doctrine of fair use.
**For more on arch-heretic Tavner Smith, Pastor of the Venue Church, see this article, and this one.