Strength to Stand? Scott Dawson Dehydrates and Rebrands
Last May, Pulpit & Pen published an article entitled Ergun Caner: The Best at What He Does about the scheduling of disgraced Christian evangelist and apologist, Ergun Caner, to speak at a teen youth camp put on by the Scott Dawson Evangelistic Association.   Despite leaving his job as President of Brewton-Parker College amidst allegations of racism and sexual misconduct, Caner was invited by Scott Dawson to speak at his Hydrate Youth Camp.  Not only did the Pulpit & Pen publicize this unfortunate and inappropriate invitation but it exposed to the general public Dawson's practice of offering a bounty to Youth Pastors for every $259-paying young person they brought to his camp.  Bounties are paid out in the form of gift cards, headphones, spa packages, and tickets to a Broadway Musical.  According to Dawson's literature:
"Upon registering a group to attend any SDEA-sponsored event, you will receive an assigned number, which enrolls you immediately into the SDEA M.V.P. program. This number will allow you to earn points through your registered attendees toward an incredible overabundance of rewards and gifts ranging from travel, entertainment and shopping to materials for your own Youth Program. Continue bringing groups to SDEA events and you will quickly increase your points, thus providing great opportunities to earn these rewards."
The Pulpit & Pen reached out to multiple youth ministers who were planning to attend the camp.  These men were warned about the dangerous speaker that Scott Dawson had lined up to speak to their youth.  Pulpit & Pen later learned, from a source in attendance at the camp, that Ergun Caner did not keep his speaking engagement at Hydrate 2015, nor is he invited to the camp's 2016 iteration which has been rebranded "Strength to Stand." (STS)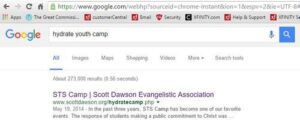 This year, Dawson's camp has added an extra session.  His organization claims that this would not have happened without "the blessing of the Lord" and the "trust" of pastors and parents.  One is left to wonder if youth pastors who choose to attend this camp have wisely placed their trust in Scott Dawson.  One is left to wonder if parents who trust their children to youth ministers who collect bounties from Scott Dawson have placed their trust in the wrong men.
Dawson may have rebranded his camp after Pulpit & Pen pointed out his nefarious association with Ergun Caner, but STS looks be more of the same.  For further commentary on Scott Dawson, listen to The Christian Commute podcast episode below:
[Contributed by Seth Dunn]
*Please note that the preceding is my personal opinion. It is not necessarily the opinion of any entity by which I am employed, any church at which I am a member, any church which I attend, or the educational institution at which I am enrolled. Any copyrighted material displayed or referenced is done under the doctrine of fair use.