Rachel Held Evans Appointed to White House Council, Congratulated by ERLC Fellow
Rachel Held Evans, who left evangelicalism in April of 2014 to join the gay-friendly Episcopalian Church because evangelicals believe too much of the Bible and stuff, has been appointed as a member of the President's Advisory Council on Faith-Based and Neighborhood Partnerships. Other appointees are a female and pro-gay United Church of Christ impastor and a United Methodist Church pastor who is also, obviously, pro-gay.
For why Rachel Held Evans is demonstrably lost, Google. It shouldn't be that hard.
But who was Held Evans congratulated by? Well, she was congratulated by her good friend and Southern Baptist ERLC research fellow and Russell Moore appointee, Karen Swallow Prior.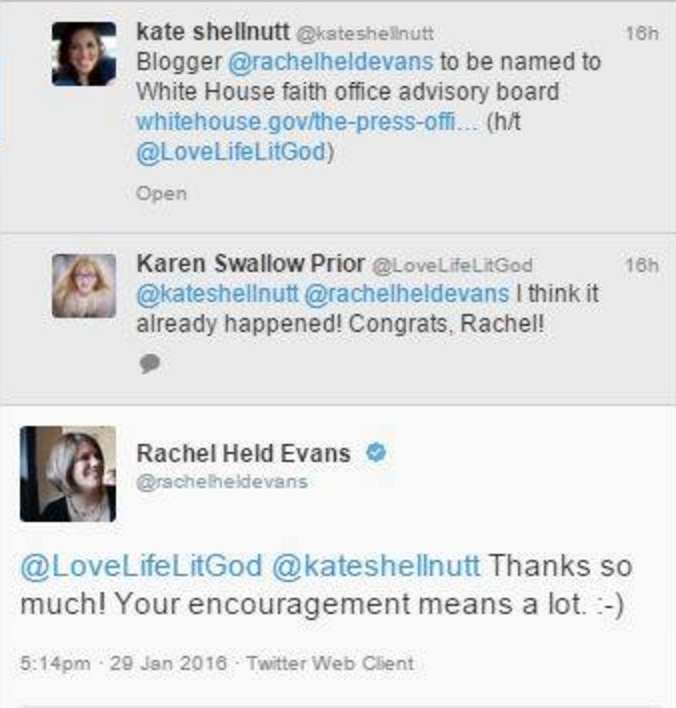 Prior, of course, is an animal rights activist, gay-affirming, feminist who thinks pets go to Heaven and that calling abortion murder is "unchristlike" (source links). She is defended ardently by certain individuals even in the Reformed camp, like Frank Turk.
We'll remind you of this comment by Russell Moore…
I wish we had a thousand more Karen Swallow Priors in evangelicalism today.
Do you agree? Do you wish there were a thousand more of her, Southern Baptists?
[Contributed by JD Hall]