Greg Laurie Pronounces Roman Catholic, Marco Rubio, Saved
Evangelical pastor of Harvest Church, Greg Laurie, is the latest in a string of evangelicals who have declared the devout, professing Roman Catholic, Marco Rubio, a genuine believer. The trend started when the SBC Company Man™, Dave Miller, posted a video of Marco Rubio giving his conversion to Catholicism testimony at a political rally and declared him saved. Following that, the domino effect began, and Wayne Grudem, Thomas Kidd, Russell Moore, and many others followed suit.
These ridiculous declarations are being made despite the fact that Marco Rubio has stated that he "fully understands Catholic doctrine," and he is "fully theologically and doctrinally aligned with the Roman Catholic Church." Let me remind you that being fully aligned with RC doctrine means being aligned with the Council of Trent, which rejects, anathematizes anyone who believes in, the biblical doctrine of salvation by grace alone through faith alone (source).
Greg Laurie posted this on his Facebook page:
This statement was made last night in the Republican debate by my friend,Senator Marco Rubio.Now,before you tell me why you like or don't like Marco for President please understand why I posted it. Marco was being asked about the Time cover story that heralded him as "The Republican Savior".To this,Marco responded "There's only one Savior,and it's not me.It's Jesus Christ who came to this earth and died for our sins."

Politics aside,when is the last time you heard a Presidential candidate say something like that?

I just want to applaud Marco for this and any other candidate,regardless of party who will stand up for their faith in Jesus Christ.

Please do not get into a political discussion here as that is not my point. My point is Marco spoke up for his faith in Christ,which knowing him I can say is genuine.

We all should do that more. (source)
Below is a screenshot of Laurie's original post.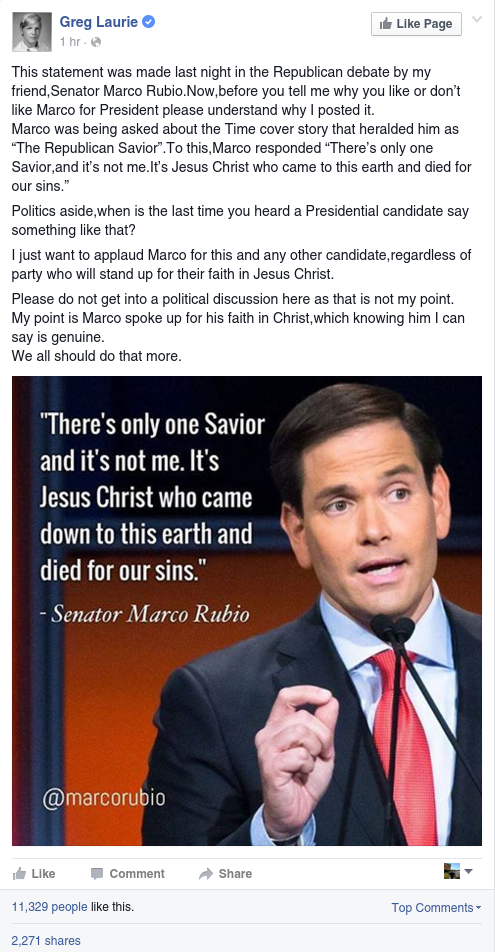 [Contributed by Pulpit & Pen]