Ecumenist Manhattan Declaration Director Goes to Work for Catholic, Rubio
Eric Teetsel is no fan of Pulpit & Pen, and was one of the first among the evangelical intelligentsia to take aim at us in social media during the early days of #the15. Since then, we've kept a relatively close eye on Teetsel, who is the director of the ecumenist Manhattan Declaration. We've written numerous articles about Teetsel and his role among the Evangelical Intelligentsia (EI) and its hard bent towards both ecumenism and social progressivism (click here for list of articles at P&P that include Teetsel). As you can see, he's not terribly fond of us.
His behavior towards Pulpit & Pen (which is usually a defense someone else in the EI, like above, from his defense of animal rights activist and social progressive, Karen Swallow Prior) ranges from sophomoric to bizarre.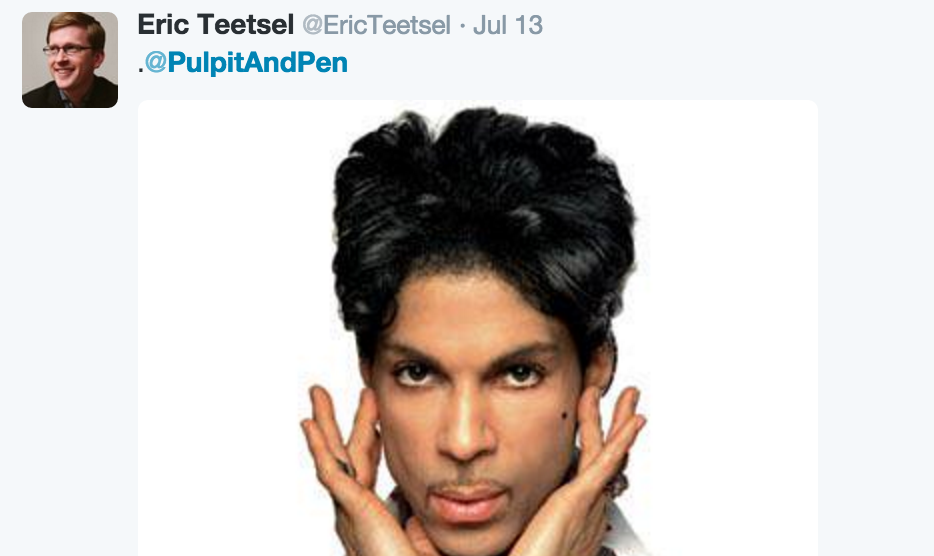 Most recently, we wrote Manhattan Declaration Director Attacks Christians in the Name of Christian Unity. In that post, we explained how apologist and teacher, Mike Gendron, had released a letter sent to concerned Christians who corresponded with Teetsel to ask their names be removed from the Manhattan Declaration because of concerns highlighted by John MacArthur, (source link) RC Sproul (source link) and other conservative Protestants. In Teetsel's scathing, insulting response to the concerned evangelicals, he wrote…
Those "ignorant, angry rabble rousers," according to Teetsel, with "small, twisted propagandas who hate others, harm and hinder the Gospel and who are in for a rude awakening" upon the glorious appearing of our Lord would include pastors and theologians like Mike Gendron, RC Sproul, John MacArthur, radio hosts and grass roots rabble rousers like Brannon Howse and myself, and many, many others.

Teetsel is, in literally every definition of the word, an ecumenist. Which is, incidentally enough, a word we had to google for him when he brought his friend, Rachel Held Evans, into our conversation to defend him.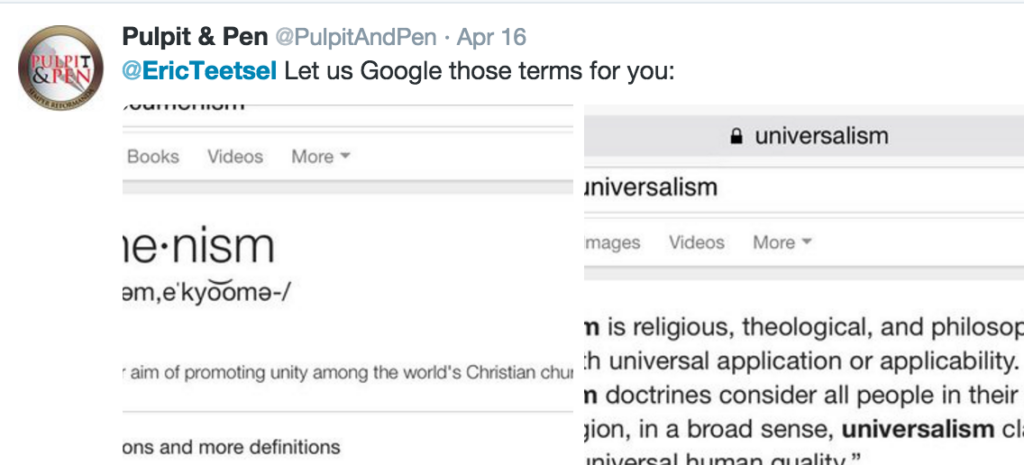 He's also a pretty proud member of the EI.

So why's Teetsel back in the P&P? Teetsel took a job with a presidential campaign. No, he's not working for the evangelical…or that other evangelical. No, Teetsel is working for the Roman Catholic. Well, the other Roman Catholic.
Teetsel now works for Marco Rubio in the position of Faith Outreach Director in order to "aggressively reach out to evangelicals."
Teetsel and his defenders would no doubt argue that Rubio is for "traditional marriage," anti-abortion and holds to other conservative values. And indeed, Rubio is in the Conservative-ish hemisphere. Here's the thing, though…conservativism isn't Christianity. And Teetsel demonstrates that when you mix politics with religion, you get politics.
Although some, like Albert Mohler, haven't demonstrated discernment in their support of the Manhattan Declaration, a good many of our leaders have. I praise God for men like MacArthur and Sproul who were unwilling to compromise the Gospel for the sake of political expediency. I praise God for men who won't advance the conservative cause to the detriment of the Christian cause.
Of all the candidates Teetsel could work for, several with conservative (at least one of them more conservative than Rubio on nearly all counts) pedigrees and who are Protestant evangelicals, he's chosen the Roman Catholic. This is illustrative of the entire methodology and purpose of the Manhattan Declaration itself – pair true Christianity with false to advance the conservative cause.
I wonder if Teetsel's first priority with Rubio was to share with him the Gospel.
[Contributed by JD Hall]
[Editor's Note: For Rubio's church affiliations, click here]