Monday's Program – Alan Doane; On Monday's program, JD begins by discussing a recent article he posted at Pulpit & Pen about whether or not Christians are obligated to register or surrender their firearms. Click here for the link. JD also spoke to Montana legislator, Alan Doane, about various issues relating to Christians in politics. In that conversation, JD and Alan talked about a recent decision in North Dakota to allow a man already "married" in a gay "marriage" to marry a woman in the state – that article can be found here. JD also addressed a snarky and unhelpful post from Peter Lumpkins at Synergism Tomorrow, found here. For the Daily Downgrade, JD issued a warning about Rick Warren, concerning the following tweet:
Tuesday's Program; Concerning Ergun Caner and Tim Rogers –  JD mentions the Biblical Counseling, Psychology and the Church Conference in Boise, Idaho and said he would give the dates – they are January 23-25 and you can register by calling (208) 371-6960. JD discussed the "twitter riot" caused by Caner's claims that all the videos of him lying are fraudulent. Dr. White's post concerning how this "riot" started can be found here. JD also discussed Tim Rogers' need for repentance.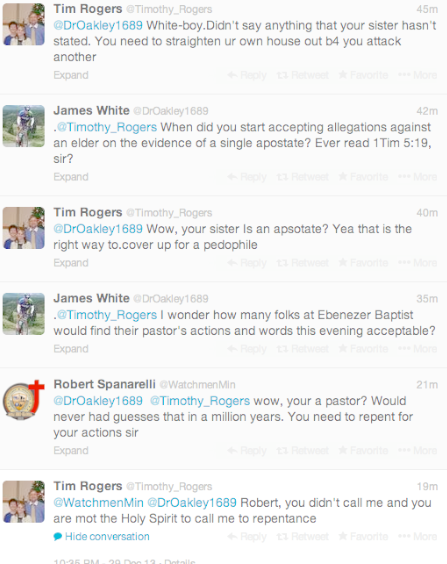 If you would like to call him or contact him to repent – and/or contact those who are in a position to call Rogers to repentance, here is their information:
Rev. Tim H. Rogers
Ebenezer Baptist Church
1417 Unionville-Indian Trail Road West
Indian Trail NC 28079
704-289-2632
t.rogers@myebenezerbaptist.org
Office Email: s.easter@myebenezerbaptist.org
page also has a contact form, click here.
Student Minister – Jason Easter: j.easter@myebenezerbaptist.org
Music Director – Na'Nette White: n.white@myebenezerbaptist.org
Children Ministry Director – Marlene Keziah: m.keziah@myebenezerbaptist.org
Administrative Assistant – Sarah Easter: m.keziah@myebenezerbaptist.org
Financial Secretary – Judy Price:  j.price@myebenezerbaptist.org
Union Baptist Association
There are too many churches to list along with pastors and numbers but here is the link to that list.
Connect 316 Leaders* (Tim's Anti-Calvinist Southern Baptist Group)
*Notice, subtitle of the page says "Who's Responsible?"
Rick Patrick, Executive Director
– Pastor of First Baptist Church of Sylacauga, AL
– Church Address: 10 South Broadway Ave, Sylacauga, AL 35150 (256) 245-6301
– www.fbcs.tv
– rpatrick@fbcs.tv
– rpatrick@connect316.net
Ron Hale, Partnership Director
– Sr. Adult/Pastoral Care Pastor at West Jackson Baptist Church, Jackson, TN
– Church Address: 580 Oil Well Rd., Jackson, TN 38305 | 731-660-4535
– rhale@connect316.net
– interestingly, his church's name isn't listed on Connect316, just that he is serving at his hometown church now
– http://wjbc.org/welcome/about-us/
Tim Guthrie, Resource Director
– Pastor of Arlington Baptist Church in Knoxville, TN
– Church Address: 1928 Fairmont Blvd. Knoxville, Tennessee 37917 (865) 522-5189
– www.arlingtonknoxville.com
– pastor@arlingtonknoxville.com
– www.timguthrie.org (Winning Truth Ministries)
– Winning Truth Ministries
– 6005 Stratford Park Blvd, Knoxville, Tennessee 37912, United StatesPhone: 865-622-1446
Eric Hankins, Doctrinal Director
– Pastor of First Baptist Church of Oxford, MS
– 800 Van Buren Ave Oxford, MS 38655
– 662.234.3515
– ehankins@gotofirst.org
– ehankins@connect316.net
Wednesday's Program; Concerning Peter Lumpkins' Article – JD referenced Peter Lumpkins' article at Synergism Tomorrow, which can be found here. Jonathan Edwards' Resolutions can be found at Desiring God, here. The Daily Downgrade included a reference to The Crossing (church) doing this parody video of 'What Does the Fox Say?' which can be found here. JD also used information from The Voice of the Martyrs, here.
Thursday's Program; Concerning Tim Rogers and Ergun Caner – JD spoke of Tim Roger's non-apology "apology"; you can find it here. Caner's so-called apology can be found here. He played a clip of RC Sproul on repentance, which you can find here. The Gospel Coalition article JD referenced is here.