Evangelicals Pushing to "Flip Congress" to Democrats in Name of Jesus
[Lancaster Online]  According to the Pew Research Center, more than 80 percent of white evangelical voters supported Donald Trump in the 2016 presidential election. But a group of progressive Christians, many of whom are evangelical Democrats, hope to change those numbers.
Wednesday evening, that group, Vote Common Good, staged a rally at  Grace United Church of Christ, 1947 New Holland Pike. Lancaster was the second stop on a scheduled 31-stop tour, designed to rally voters in 20 battleground congressional districts…
Doug Pagitt, an evangelical pastor from Minneapolis, and executive director of Vote Common Good, said the election of Donald Trump was the catalyst that birthed the organization.
Pagitt said it was "terrifying" that "Donald Trump was not only a reasonable choice but the preferred choice of evangelicals. This kind of tragedy in the American spirit isn't just a problem to solve, it's really a crisis to respond to."
Speaking to a gathering of roughly 35 people at Grace UCC, Pagitt said the group's aim is to "flip Congress" as a way to counter the Trump administration's policies.
Fueled by faith
He said while he does not to promote either party, "It is the way the Republicans and the Trump administration has acted that has caused my faith to fuel me … to do something about it," he said.
"No one is calling for perfection," he said. "What every religious person I know calls for is that their leaders act in ways that are righteous."
That message resonated with Juli Knopp, who traveled to the event from York with her husband, Wayne.
A registered Democrat, she said the tone coming out of Washington, D.C.  has angered her.
"So I thought this would be a good first step to figure out how I can do something," she said.
Her husband, a former Republican who is registered as an independent, worries that legislation now being promoted in Washington, D.C., adversely affects most Americans.
"It seems that the policies being created now are more and more geared toward a smaller and smaller segment of the world and it's just not right."
Jeff Dombach, a computer programmer from Centerville is an independent voter. He said he has supported Republican candidates in the past but "is unhappy with the divisiveness that's being brewed in politics.
"Even though I'm an old white guy, I think the powers in control are just driven out of fear for losing their status and rank in society and maybe it's time they do."
Cannot support GOP
Lydia from Lititz, who declined to give her last name, said she was an evangelical for most of her life and a Republican for 40 years. But no longer.
"I was a Goldwater girl," she said, referring to the late Sen. Barry Goldwater, who was the Republican presidential nominee in 1964. "But I can't support  any Republicans now."
As for evangelicals, she posed this question: "Where is the discernment?"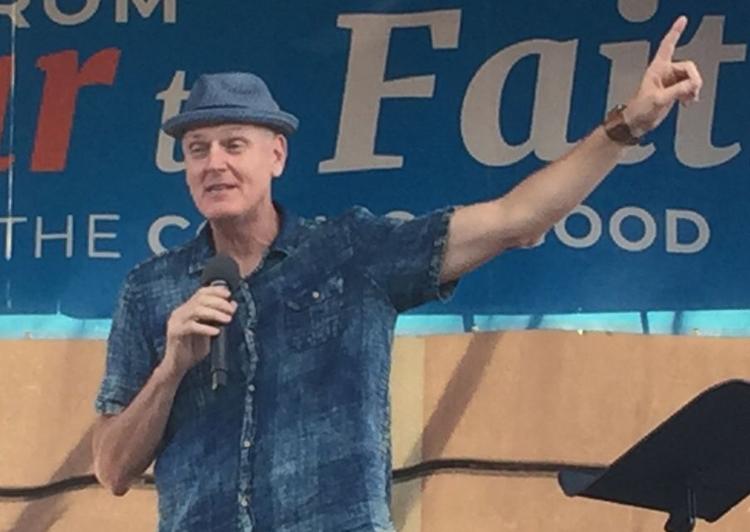 Pagitt said some Republican Christians he has spoken to are more loyal "to the Second Amendment than to the Second Commandment."
For more, read Lancaster Online
[Editor's Note: There's no word as to whether or not Tim Keller is driving the bus]