LifeWay Announces New Armageddon Coloring Book?
For though we walk in the flesh, we are not waging war according to the flesh. For the weapons of our warfare are not of the flesh but have divine power to destroy strongholds. We destroy arguments and every lofty opinion raised against the knowledge of God, and take every thought captive to obey Christ, being ready to punish every disobedience, when your obedience is complete.
2 Corinthians 10:3-5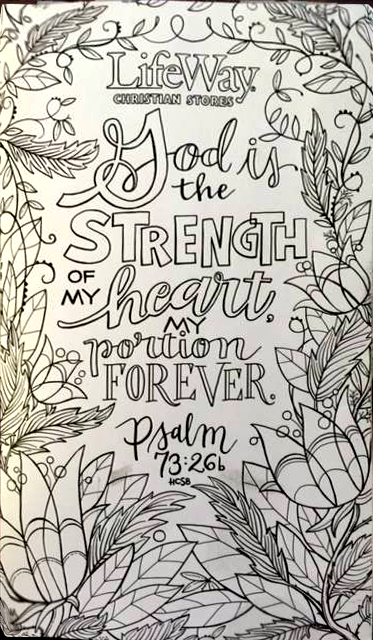 Since the Bible says that we are in the midst of spiritual warfare, though it often seems most pew sitters seem to have no clue about it, (The warfare is IN the church, folks, not out in the world. FYI) I thought it prudent to remain informed as to the maneuvers in one of the apparent "strongholds" of the other side.  So, yes, I am on LifeWay's mailing list because I want to know what the enemy is up to.
LifeWay eagerly throws caution, and discernment, to the wind and jumps on board anything that seems "Christian" and can be marketed as such through its catalogs, brick and mortar stores, or its online website.  You have to be a false teacher of almost, well, Biblical proportions to be excluded from their stores.  There's hardly no false prophet from whose works they won't seek profit.  It was only last year that they quit selling the fabulously heretical "heaven tourism" books, done only after the appropriate deluge of outrage from discerning believers.
Methinks that deluge ought continue.  At the moment, though, the discernment outrage tap seems to have been twisted down to a mere trickle of truth defenders, particularly those occupying pulpits. So LifeWay continues to promote much that is patently false teaching.
"You know the most dangerous places for Christians to go?  Christian bookstores.  You'd be safer on a swat team."  Justin Peters
It's probably not much of a stretch to consider LifeWay to be the Southern Baptist Convention's metaphorical "Megiddo,"  the geographic focus of our Lord's upcoming epic battle with evil.  Only it's not certain whether they'd encounter "friendly fire" or rightful volleys of justifiable wrath for a clear lack of influential discernment.
Walk their shelves and you could be hard-pressed to decide what side they're on.  LifeWay is ground zero for false teaching in the SBC.  Any day, one might reasonably expect to see a "Featured On TBN" display hawking the wares of even more false teaching, Scripture-twisters.  (Yes, this includes faith femme fatale Beth Moore, now a TBN celebrity.)
And now, LifeWay is promoting adult, Christian coloring books.  I know that because their latest catalog was promoting them. Their website, under the section "Adult Coloring Books" contains five pages of some 120+ of such "resources." One of the books featured on the glossy cover of the mailer I received includes the tagline, "Biblical Inspiration, Soothing Reflection & Creative Expressions of Faith."  Uh-huh.
Well, pause with me, my fellow adults who are now being entreated by the S.B.C. to revert back to childhood; let's put on our thinking caps and answer this question, What demographic is LifeWay targeting with this current promotion?  (This is a timed test.  Answer correctly and you get a smiley face.)
If you look in your Bible – not the LifeWay "Word in Color" one, either – you'll find this verse.  It's not a gender-specific verse.  It's appropriately meant for boy believers and girl believers.
When I was a child, I spoke like a child, I thought like a child, I reasoned like a child. When I became a man, I gave up childish ways.  1 Corinthians 13:11
Even though it was written by Paul, and even though it uses the word "man," this verse means something for every … adult … believer.  It's not the contextual meaning of the verse, reflecting the future hope in Christ to which all believers will arrive, that I'm considering.  It's Paul's use, writing in the first person, of the common sense metaphor of maturity.  When you grow up, you put childish things away.  Flip over to the next chapter and he does it again, "Brothers, do not be children in your thinking."  (1 Corinthians 14:20)
In those two verses, Paul uses the practical metaphor of maturity for both encouragement and admonition.  When it comes to spiritual things, he tells Corinthian believers to, essentially, "grow up."
Now, back to LifeWay and those coloring books.  The problem is not the coloring books.  Call it art, don't call it art, but engaging in coloring is not a problem.  It's a hobby, a pastime, an enjoyable craft.  In and of themselves, coloring books, juvenile or otherwise, are not a problem.
My wife and I like to shoot guns at the gun range.  We don't engage in "Christian" target practice, though.  We're not firing destructive projectiles at demonic foes in a mindless spiritual battle.  We just like shooting guns.  Same thing applies to coloring.
Coloring, like shooting guns, is not a Christian discipline.  Laser-etching John 3:16 on the barrel of your favorite pistol doesn't make it a "Christian" gun.   Likewise, coloring cannot be made a Christian discipline by adding a verse or two to a page of otherwise colorless graphics.
Adding Crayola technicolor to the outlined imagery offers nothing of spiritual value for the one coloring in the same way that your morning mug with a Scripture verse emblazoned within a fleur-de-lis doesn't make your coffee "Christian."  (Oh, and put down the Jesus Calling nonsense, too, because Jesus ain't gonna whisper to you over your morning brew.  Pick up the Bible.  He's not calling.  He sent an entire book.)
Lifeway, the SBC, and much of the evangelical church today is doing a tremendous disservice to women.  Rather than being discipled as fellow warriors in Christ's army, within even the important, though gender-specific roles God has placed them, women are being coddled with an emotions-placating, feelings-inducing form of faith that is nowhere to be found in Scripture.
Having the pleasure of knowing valiant women of firm faith who eschew the gender implied tendencies of emotionalism, I am encouraged by them because they stand in the truth of the "KNOWLEDGE" of our Lord Jesus Christ.  They don't base their faith on the truth of their "FEELINGS," for that is not the foundation of truth.  These women know "the heart is deceitful above all things" and they seek, and find, truth in the Word.
The church, the SBC, and LifeWay should be bolstering the edification of women as sisters in Christ, rather than making a profit by peddling the propaganda of emotionalism to them. (Men are likewise targeted by profit-grabbing marketing; enough, really, with all the seasonal "Sitting In Your Tree Stand Devotional Bible … in Camo" nonsense, please!)
But "Christianized" coloring intentionally appeals to an emotions-based faith, hence the subtitle of the coloring book mentioned earlier – "Soothing Reflection & Creative Expression."  If you want to be soothed, as we all need from time to time, it is not to be found by the mindless engagement of such things as "contemplative prayer" or "Christian coloring," an endeavor that can only be tied directly to the tenets of the false teaching of "contemplative prayer" itself.
The verse quoted on LifeWay's coloring catalog is only partially quoted, conspicuously placing the word "heart" in the center of the page.  Okay, maybe that isn't intentional.  Maybe there's nothing conspiratorial at work here.  Yet, if you take the full verse from Scripture, here's what it says:
"My flesh and my heart may fail,
but God is the strength of my heart and my portion forever."
Whenever you see "but God" in Scripture, it should be a vivid, inked reminder of the centrality of His pre-eminence in all things.  "For from him and through him and to him are all things. To him be glory forever. Amen."  (Romans 11:36) The Psalm writer knew this.  Paul knew this.  Jeremiah knew this: "For the heart is deceitful above all things." (Jeremiah 17:9)
So why doesn't LifeWay know this?  Because they know "touchy-feely, it's-about-you" emotionalism sells.  The hard truth of "grow up?"  Not such a great marketing theme.
We know that, in this spiritual warfare in which ALL believers, boys and girls, are engaged, the enemy will do anything and everything he can to create traps, snares, and diversions in our walk of faith.  The fundamental method he uses hasn't changed since Eden.  He challenges the Word of God and wants to divert us from it.  Closing your Bibles and coloring begonias (or even TULIPS, lol) helps achieve his goal.
Regardless of whether a posey-laden, outlined page of colorless newsprint includes a verse of Scripture, utilizing it as a meditative time of "soothing reflection" is doing one thing – it's leaving your Bible shut.  No verse of Scripture ought to be jerked out of the Word and imbued with any esoteric spiritual value outside of the full context of Scripture.  To focus on Psalm 73:26 "Part B" means you are missing Psalm 73:26 "Part A."
This is the problem with contemplative prayer and "Christian coloring."  When done as a mindless, stress-relieving "spiritual discipline", taking on an almost devotion-like transcendental aura, "Christian" coloring at best emphasizes only a part of Scripture, a verse of Scripture.  It is very easy, as any astute reader of the Word knows, for a single plucked verse of Scripture to be taken out of context and, thus, wrongly applied.  The enemy loves to have it so.  Women and men need more than slivers of Scripture, regardless of how colorfully decorated, to truly "have the mind of Christ."
Christ says, "If you abide in my word, truly you are my disciples."  He didn't say, "If you abide in PARTS of my word and color around the rest."  We should be encouraging women, and men, to "grow up" in the maturity of their faith by their immersion (I am a Baptist, after all!) in the full text and truth of Scripture.
If you want to color, then color.  But, please, please, please … don't presume that it is a Christian discipline.  Don't imbue it with any presumptuous, unbiblical, contemplative value that suggests mystical, esoteric understanding.  Such behavior is spiritually dangerous.
You may recall the old advertisement that included the phrase, "The mind is a terrible thing to waste."  For the believer … The emptied Christian mind is terribly wasted.
"But we have the mind of Christ."  1 Corinthians 2:16
THAT mind, brethren, is not one to waste, nor does it require crayons.
[Contributed by Bud Ahlheim]