Creflo Dollar & John MacArthur: Together
It belongs over on the Babylon Bee, actually.
On Monday, wanna-be jet-setter, word faith, prosperity gospel heretic Creflo Dollar quoted John MacArthur.
Read that again.   Creflo Dollar QUOTED John MacArthur.
It was in the form of a tweet posted by Dollar on Monday, April 11. It yielded, for Creflo, a rather paltry number of retweets, only 171, with only 243 "likes."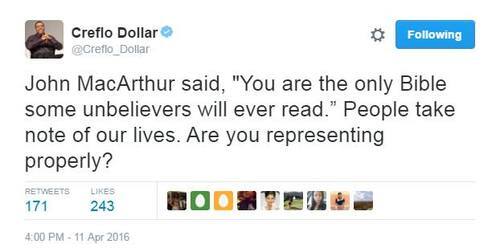 The obvious paradoxical hilarity of this aside, it reflects exactly how subtle the enemy is. Just as deception often enters the church with a calm, smiling manner, it yet wreaks havoc to the faithful. When not confronted as error, corrected with doctrine, or otherwise cast from our midst, small delusions spread into full-blown heresies. It's a method of the enemy.
Paul exhorted Timothy about just such a thing …
" But avoid irreverent babble, for it will lead people into more and more ungodliness, and their talk will spread like gangrene." 2 Timothy 2:16-17
Who knows why Creflo decided to quote MacArthur. Is he trying to insinuate legitimacy to his own heresy? What's next for doctrine-denying Dollar? A sermon series inspired by Spurgeon? Maybe he's trying to provoke a response from JMac so that, in Furtick-like, narcissistic style, he too can write a profitable tome from what ought to have been taken as a rebuke.
Doubtless Dollar's tweet played poorly with his 536K followers because they likely have no clue either who MacArthur is or why the importance of reading the Bible is such a big deal. They themselves don't read it, else they wouldn't be relying on this charlatan.
The discerning student of Scripture knows well the falsehoods touted by Creflo and his ilk.   The undiscerning among his cadre of wide-path plodders would do well to drop him and instead pick up any of MacArthur's works.
Still, Dollar quoting MacArthur is as amusingly enriching a jocularity as, say, Ronnie Floyd joining in with the NAR for a prayer conference … Oh wait … no … that wasn't funny …
Heresy like Creflo can be momentarily amusing for the discerning. But hand-holding with heresy like Floyd has never is. It's one thing when Creflo presumes some credibility by quoting an authoritative source. It's quite another when a man who should be credible reaches across the aisle to hand hold with heresy.
Stay tuned, though … we'll alert you as soon as Floyd tweets Creflo.
The way it's going in the SBC, it could very well happen.