LifeWay & Beth Moore: What Ails Us
This email was waiting for me in my inbox this morning.  It's from LifeWay Women. Now, I'm not a woman, and I don't remember signing up for emails from this gender-specific marketing arm of the heresy peddlers in Nashville.  Still, I'm not unsubscribing because, paraphrasing what my mom used to say to me, it shows "just what ails us".  (Mom actually used the query "What ails you?" as a stern form of maternal correction.  Most of the time I got the message!  Hmmm, maybe Beth needs a stern "What ails you?" warning from someone.)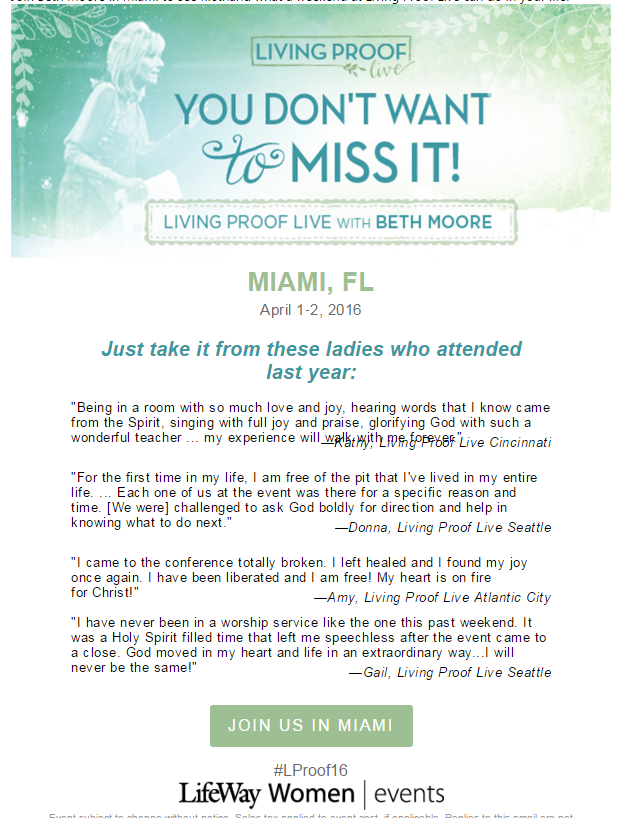 If you have basic discernment skills, the email screen grab above shows exactly what "ails us".
That Beth Moore is a false teacher is granted, and obvious to most.  LifeWay must be making oodles of cash from promoting her nonsense.  In case you haven't been paying attention, LifeWay isn't exactly known as a responsible, discerning affiliate of the Southern Baptist Convention.  The SBC just disregards the obvious concerns that ought to be causing air-raid heresy sirens to blare.  But, nah, never mind that.
Now, back to the email graphic above.
Read what women are saying about the "Living Proof Live" event.  Do that.  Go read the comments.
Kathy from Cincinnati mentions "so much love and joy", "words that I know came from the Spirit", "such a wonderful teacher".
(Well, Kathy, love and joy are fruits of the Spirit.  In our lives, both are evidences of our salvation and commands from our Lord.  Those words that came from the Spirit?  If Beth were actually teaching the Scripture in a sound, exegetical manner (we know she does not), you'd know that any and all words "from the Spirit" are in the BIBLE and the BIBLE alone.  If you heard something else, think again.  God does not speak outside His Word.  It'd be more impressive if your comment was "Jesus is such a wonderful Savior" instead of lauding Beth as the focus of your commentary.)
Donna from Seattle includes  "free of the pit", "challenged to ask God boldly for direction and knowing what to do next" in her comments.
(Donna, someone should've told you this by now, but the Christian life is not one of perpetual victory and ceaseless conquering in this world.  In fact, Christ warns us to count the cost before following Him, because taking up your cross and following Him means just that, your faith may lead to the willing sacrifice of your own life for His.  That might seem like a bigger pit to you, but it's a Biblical "pit", of sorts. Life with Christ is about obedience, not achieving our happiest life on this planet.  If you want to know what to do next, besides telling you to buy her next book or attend her next conference, Beth Moore doesn't have a clue.  Read Scripture.  His will is revealed there.)
Amy in Atlantic City comments include "totally broken", "left healed", "found my joy", "heart is on fire for Christ".
(Umm, Amy, what did she do?  Lay hands on you or something?  Your comments seem to indicate that the entirety of your faith is based on what you feel.  Faith is not emotionalism.  Faith is fundamentally "KNOWING" the Truth.  It is that KNOWN TRUTH that will set you free; give you authentic, constant joy; and serve as the source for ceaseless zeal in your life.  Get off the roller coaster of your emotions and start studying the Word, which means you're gonna have to dump Beth to do it right, by the way).
Gail, also from Seattle, remarks "a Holy Spirit filled time", "left me speechless", "God moved … in an extraordinary way".
(Gail, it sounds like you had almost a tambourine shaking, snake handling, pew hopping good ole' time at a "Holy Ghost" rally.  It left you speechless, knowing God moved.  Well, emotions, again, are a dangerous, and illegitimate, basis for faith.  God is ALWAYS moving.  He's also always speaking, in His Word, and, understanding it through diligent, thoughtful study will, indeed, make you KNOW HIM in an extraordinary way.  There is simply no replacement for "abiding in my Word", but there are many false substitutes for it.)
I read these comments and, superficially, nothing seems amiss.  Targeted to women, quoting women, it's expected that perhaps more flowery commentary and emotionally-appealing entreaties would be prevalent.  And they are.  No, there's nothing wrong with love and joy; there's nothing wrong with genuine worship and knowing the Spirit of God drives us to that.
But here are the problems.  (Some are shown in my italicized responses to each comment above)
Where is the focus on Scripture?  Where are the comments expressing how they understood the Word in a much clearer, more helpful way?
Where is the focus on Jesus?  The entire point of Scripture is to point to Him.  Amy's comment that her "heart is on fire for Christ" seems to smack more of the emotional power of her feelings that an authentic zeal borne from having "the mind of Christ".
This targeted, egregious, marketing to women is based, purely and wrongly, on emotionalism.  We know Beth Moore does not offer sound exegesis of Scripture.  Emotionalism is her singular tool.  When she's not twisting Scripture to achieve her preconceived results, she's putting herself in the middle of the Biblical narrative.  (No, Beth, Scripture is not about you, or your students, or me; it is singularly about Jesus.)
The emphasis on the Holy Spirit is worrisome, as well.  The Holy Spirit, who does many things in the lives of believers, first and foremost always does one thing – He points us to Christ.  He does not point us to Himself, ever.  He convicts the unregenerate through the Gospel of Jesus; He saves sinners through the work of Jesus; He works in the lives of believers to make them holy as Christ is holy.  The Holy Spirit is never the focus of our prayers, the center of our worship, or the proper ambition for our faith.
Based on these comments, Beth Moore is driving women to focus on the Holy Spirit for the sake of the Holy Spirit.  Want joy, love, removal from your pit, fire in your heart, an extraordinary experience?  You need the Holy Spirit.
Umm, NO.  The Holy Spirit works in every believer in an invisible, silent, and completely imperceptible manner.  You will never know the Holy Spirit is at work except by the fruits in your life He produces through your obedience, not to Him, but to the revealed Truth of God in His Word.  And those fruits?  Yeah, they are never based on emotions, but always based on His Word.
Frankly, we grieve the Spirit by focusing on the Spirit.  It's misleading to teach people to do this because it will yield a frustrated walk of faith that is determined not by the Truth we know, but rather by the feelings we yearn to have.
I'm in the midst of reading a book by Jerry Vines.   Spirit Works deals with the errors of the Charismatic movement.  But there are a couple of pertinent quotes I'd like to give you here, and these quotes are far more valuable than the emotional fluff from Beth's disciples.
 (Umm, Bud, you're going to quote Jerry Vines??? Yes, he's spot on with these remarks.  Important point: don't disregard a teacher over a secondary or tertiary issue who shares a solid commitment to the same fundamentals you do.)
Here are his quotes:
"The work of the Holy Spirit is not to make you like the Holy Spirit, but to make you like Jesus."
"The purpose of the work of the Holy Spirit is not to call attention to Himself but to point to the Lord Jesus Christ."
Here are a couple of more quotes from others that speak to this dangerous, unbiblical, though trending fascination with the Holy Spirit, rather than Jesus:
"The Spirit's real evidence is His power to connect men with and remind them of Jesus Christ, not carry men beyond Him".  Frederick Bruner
"If anything calling itself Christian teaching makes its approach to us and does not exalt and glorify Christ, it is not of the Holy Spirit."  John Phillips
Consider this from John MacArthur:
"Show me a person obsessed with the Holy Spirit, and I'll show you a person not filled with the Holy Spirit."
Vines points out another really valuable thing to remember.  I think it is especially apropos if you are considering following a teacher like Beth Moore (Listen, just don't.  Just don't follow her.  She's a false teacher.  You're simply enriching her and Lifeway at the cost of your own faith.)
"When I was a young Christian," Vines writes, "someone made the following distinction for me, and it has been helpful.  Three words need to be kept in the proper order: facts, faith, and feelings.  Facts – find out what the Bible says; faith – by faith believe what God has said in His Word; feeling – then God will you whatever feeling He wants us to have.  But in an experience-centered culture, the order is reversed.  It becomes feeling-faith-facts."
Folks, the SBC, LifeWay, and most evangelical Christians have this out of sequence.  In yearning for positive, warm-fuzzy, empowering (they really don't) feelings, we are forsaking the fundamental of our faith – the facts of God's Word.
As Martyn Lloyd-Jones said, "Faith, according to our Lord's teaching … is primarily thinking … We must spend more time in studying our Lord's lessons in observation and deduction.  The Bible is full of logic, and we must never think of faith as something purely mystical.  We do not just sit down in an armchair and expect marvelous things to happen to us.  That is not Christian faith.  Christian faith is essentially thinking."
Pray God will awaken LifeWay and the SBC, who so badly want to drive us to a thoughtless, armchair faith.  Pray that believers will pursue "the mind of Christ" through the diligent study of the Word and not the emotional mindlessness that such false teachers like Moore promote.
Folks, ladies, please do not be misled.  Your emotions do not validate your faith, nor are they the foundation for it.  Scripture is sufficient. Beyond that?  It's what ails us.
(For a recent look at some of the concerns over Beth Moore, see THIS.)