Picture it, Peter and Paul are discussing how to get people into the Church and so they decide to have a gamer's night at the local Jerusalem church. Oh, wait…that didn't happen. But, it is happening today. The newest affinity based church model, "God Loves Gamers", with Pastor Matt Souza is debuting in about 3 days.[1] The world's first gamer Pastor is going full time with his gimmick and needs your support.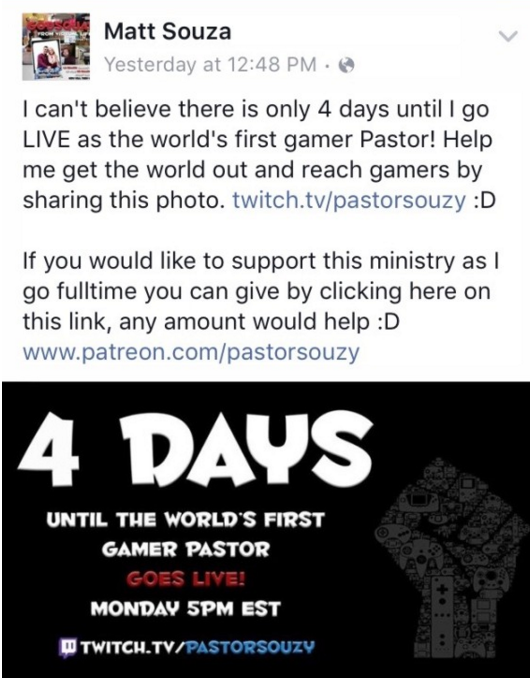 For anyone who has been paying attention to the state of American Christianity, it is no secret that most people do not select a church based on its theology or doctrinal foundations. Today, consumerism and a seeker-driven mentality combine to produce these affinity-based churches. Jordan Hall wrote in 2012,
This trend began to take off in 2004 within the SBC, in which 1,781 affinity-based churches were planted. The trend has increased each year since. It is not uncommon to see these supposed churches focused on various hobbies or interests; bikers, cowboys, racing fans, skaters and outdoorsmen. Reformation Montana would like to issue caution to those considering an affinity based church plant and to the various state conventions of the SBC and other denominations that promote them.[2]
JD discusses several reasons for avoiding the affinity based church model in the above article. These are issues that we certainly need to consider when evaluating such gimmicky church models. Why are such things necessary? The second question would be: why do some feel the need to repackage and rebrand the Gospel? There appears to be a lack of trust in Jesus' words in Matthew 16:18 that he will build His church. Incumbent upon those in leadership is the need not to try and discover the felt needs of a particular group and draw them into Church upon meeting those needs, but to faithfully preach the Gospel and build a strong foundation upon which the new believer can grow. These shaky foundations built via the affinity model will not stand the test of trials. Death, disease, divorce….what happens when playing Mario Kart with Pastor Matt can't help with those issues and something deeper is needed? Understandably, this Pastor means well, but, ultimately, the time will come when the individuals brought together via gaming will grow to need something more solid. When they do, they will find that their foundation was built upon sand rather than rock.
[Guest Post by Chad Ressler]
Do You Want To STOP the Modern Day Downgrade?
Subscribe Today...
Stay informed. To subscribe, simply enter your email address below.
Also, please add newsletter@pulpitandpen.org to your contacts to ensure that your newsletter doesn't go into your spam folder.
Enter your email address below…

"Daily, the work at Pulpit & Pen is filling the void of places where 100 men once stood and that is not an exaggeration. Day in and day out, they tirelessly vet offerings and influence of ministries around the world that they may guard the little sheep from the least to the most damning of errors. This is hard, unappreciative and alienating toil...
"JD Hall and his contributors such as Seth Dunn, are almost single-handedly leading the way in a rescue attempt of conservative Evangelicalism and especially the Southern Baptist Convention."
-Alex A. Guggenheim
Today we ask you to defend Pulpit & Pen's independence.
We're a non-profit that depends on
donations
to stay online and thriving.
Please consider making a donation of $5, $20, $50 or whatever you can to protect and sustain Pulpit & Pen.
Thanks,
JD Hall
Pulpit & Pen Founder
Click here to invest in discernment ministry
.