Bam Bam Bentley is Slapping Corpses to Life…Supposedly
Then that lawless one will be revealed whom the Lord will slay with the breath of His mouth and bring to an end by the appearance of His coming; that is, the one whose coming is in accord with the activity of Satan, with all power and signs and false wonders, and with all the deception of wickedness for those who perish, because they did not receive the love of the truth so as to be saved. – 2 Thes 2:8-10
Deceiving charlatan, Todd Bentley, of Fresh FIre USA, based out of Pineville, NC, has claimed to raise a 10 year old boy from the dead while on mission in Pakistan. He says,
The emotional moment as this 10 years old boy was raised from the dead! He stopped breathing and was declared dead after 20 minutes. They carried him to the stage lifeless and after 5 minutes of prayer was instantly raised from the dead in front of 250,000 people!
Below are the pictures he posted on his facebook page of the alleged resurrection.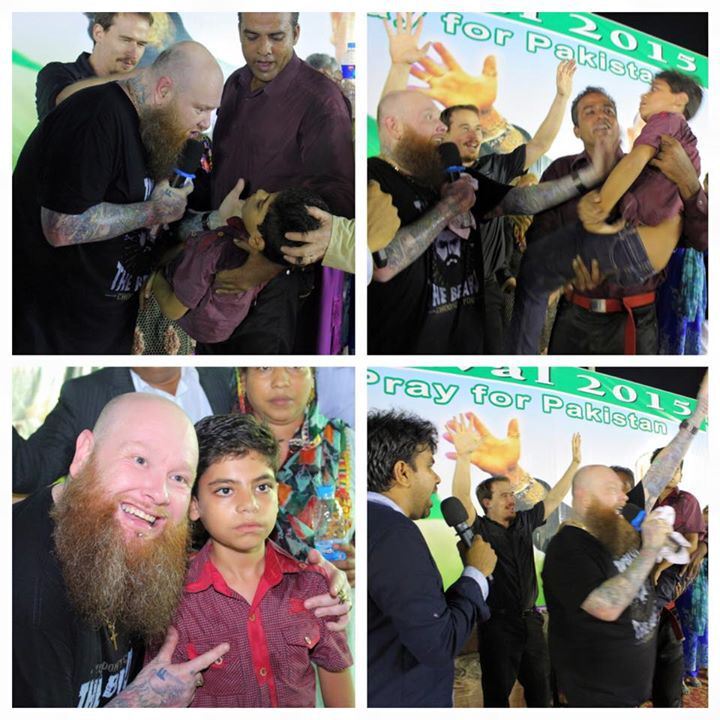 At the time of this article posting, he already had 323 shares, and over 2000 comments. People are being deceived by this man by the multitudes. Now, this is the same Todd Bentley that cheated on his wife while he was away on "mission" back in 2009. Yet, he claims to be a man of God, with the power of the Holy Spirit, able to heal the sick, raise the dead, cleanse the lepers, cast out demons.
Further, he claims that nearly 300 thousand people gave their life to Christ at this alleged resurrection event.
Folks, avoid this charlatan at all costs, for he is mocking God, blaspheming the Holy Spirit, and he will reap what he sows, lest he repent.
Do not be deceived: God is not mocked, for whatever one sows, that will he also reap. For the one who sows to his own flesh will from the flesh reap corruption, but the one who sows to the Spirit will from the Spirit reap eternal life. – Galatians 6:7-8
Lord Jesus, return soon!
[Editor's Note: (A) There is a reason why Jesus and Lazarus were stinking, decaying dead before by God's power they were raised. These poor people are probably drugged, as they look like walking out-of-it zombies after they're slapped to alertness (B) This post was by RC, originally posted at Psalm 12 Outreach under a different, less-catchy title and republished with our bruh's permission]