Douglas Wilson's Glorious Response to Russell Moore's Racial Grandstanding
The always-pointed, brilliant mind of Douglas Wilson has responded to what Pulpit & Pen can only describe as racial grandstanding on the part of Russell Moore. Coming at the tail-end of the annual Southern Baptist Convention meeting that was full of talk of "racial reconciliation," and with the ERLC focusing on this issue more than any other over the last year, this unfortunate and wicked mass-murder was an opportunity (predictably) quickly seized upon by Moore to demonstrate the SBC's racial sensitivity by preaching the Gospel calling for a ban on the Confederate Flag. Because that's the problem. Right?
I have two things to say about this issue, and posted them in social media earlier today:
1. Before evangelicalism's public relation experts jump on the Charleston shooting like white-guilt on rice, remember that the problem is not a flag, but is sin – and the solution is Gospel. Hashtagging your scolding tweets#TakeItDown as though the problem is symbolism of a bygone era dyed on a piece of cloth not only grossly oversimplifies history and is misunderstanding of abiding heritage, but it places the impetus for change upon the outside, external cup and not the internal hatred of the heart. As Russell Moore is calling for removal of the Confederate Flag, as a wholesale rejection of ALL of the southern state's shared heritage, he overlooks the fact that the Southern Baptist Convention still has buildings named after slaveholders like Boyce, Broadus and Manly. Why not call for those buildings to be renamed, as they are representative of that same bygone era with a shameful and sinful asterisk belonging to slavery? Would it be because Moore could argue that the heritage left behind by Boyce, Broadus and Manly cannot be reduced to their ownership of slaves? No, he dare not make that argument – the press would devour him! So why not take the log out of your own eye? It's because that wouldn't be popular. His Southern Baptist base would crumble beneath his feet. That would receive no accolades.
So, instead of preaching the Gospel as the solution to racial reconciliation, Russell Moore is reaching for the low-hanging fruit of symbolic imagery abused by racist, sinful, maniacs. Evangelicals never cease to amaze me in their ability to overlook the "evangel" in almost every single important, teachable and tragic moment of our culture for the appeal of cheap applause.
2. And this one may be a hard pill to swallow: The problem isn't the Confederate Flag. It's a culture of death, in which men like Clementa Pinckney use their political power to fight for the "right" of parents to kill their children because they don't want them around. It's a heart bent on sin and fully corrupt that causes a young man to exercise his wicked choice to abort people he didn't want around, either. The problem is that our post-modern culture thinks a baby is only a live human being if the mother wants him or her. A product of post-modern culture, this church shooter didn't view these people as human beings deserving to live because he didn't want them. This is the post-modern culture of death we live in; this murderer was carrying out the foregone conclusion of Planned Parenthood and Clementa Pinckney's worldview. The problem is systemic and innate and deep, and can't be summarized by something as simple as a flag. It's not racism (alone) that is the problem, but our over-all lack of belief in the sanctity of human life, whether or not you want someone around – they're still a person deserving life. Pinckney's view and Planned Parenthood's view and apparently Dylann Roof's view is that someones' life is only valuable if you personally want them. THAT, my friends, is the problem. We live in and promote a culture of death, and we get death.
I also thought this tweet (from whoever this is) said it best: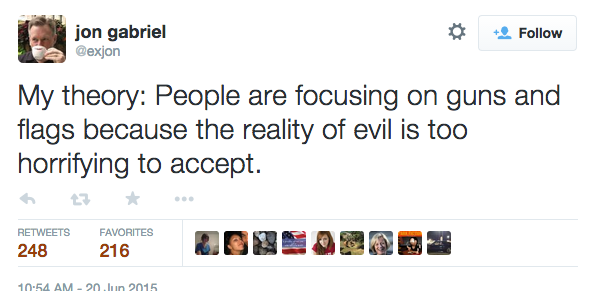 Here's what Wilson had to say.
In the aftermath of the horrific shooting in South Carolina, a cry has arisen calling for the Confederate flag that flies on the capitol grounds in South Carolina to be taken down. Russell Moorehas joined in the call, and I have been called out on Twitter to do the same. Let me explain my reasons for declining to do so — I am declining to say anything about it, one way or the other. There are three reasons.

First, as I explained in another post after another shooting, it is unseemly to politicize these horrors when the families are still weeping. Whether the issue is gun control or something else, whenever a hard sell comes in the immediate aftermath of a tragedy, the only thing it makes me want to do is wonder at how boorish some people can be. If this the case when the political issue is arguably connected, as with gun control, how much more is it the case when it is so obliquely related? Did the alleged shooter even know about the flag? Boorish behavior can be exhibited by either side. If one man starts a roaring debate in favor of gun control the same day of the shooting, the situation is not improved if an advocate of open carry does the same thing the next day. The families involved, who include godly Christian people calling for repentance and a turn to Christ, ought not to be distracted by apparatchiks trying to make some political hay out of their grief.
You can continue reading over at Blog and Mablog here. It is definitely, definitely worth a read.
[Contributed by JD Hall]
[Editor's Note: This article was cited by Right Wing Watch – if you happen to have been linked here by the website. Please note above, the content that was cited by RWW was not written by Wilson, but by JD]