Mark Driscoll Restored, Given Tickets to Disney Land
Mark Driscoll just spoke at Thrive Conference 2015. This is the only video from Driscoll's time on stage, posted first here and uploaded to P&P in case it is Canerized (you never know).
In the short, six minute video (which reportedly was just a fraction of his time on stage)…
Mark gives a prayer of thanks and appreciation that "struck shepherds" can be forgiven.
Mark prays that God send the Spirit to help the shepherds "forgive" those who struck them and be given keys to release themselves from such torment.
Mark then prays for refreshing and renewing for "struck shepherds."
Then, a fellow (who?) gets up and says, "I think we can all agree the Kingdom of God is better when it's all together." He also says, "The Kingdom of God is better when people aren't toxic," referring we suppose, to those who "struck the shepherd" and not the man whom they are about to lay hands on in prayer. The spokesman then saying two things.
"Thanks for sharing."
"At some point, God is going to move you forward. He's in the process of making you new and me new; you're here because God's trying to do some new things…so we're praying for you a new future, wherever you land."
And then…they gave him four tickets to Disney Land.
Oh, and something to make you stone-cold cessationists scream: Several attendees report that Driscoll had spoken about hearing the voice of God a number of times, and said "We audibly heard the voice of God to be released from ministry.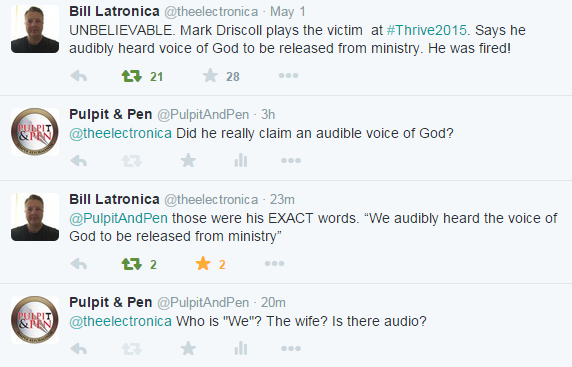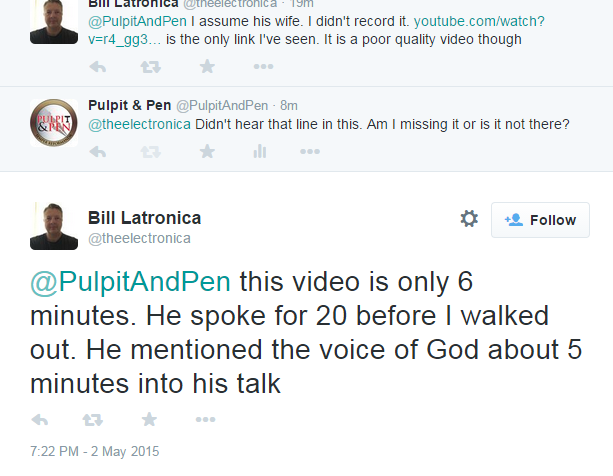 Sometimes, Downgrade posts write themselves.
Reporter: "Now that you've been restored to ministry, where are you going?" [sticks mic in face]
Mark: "I'm going to Disney Land!"