Faith-Healer Asks For Prayers…For Healing. No. Really.
According to Charisma News, the preeminent faith healer, Benny Hinn, has been admitted to the hospital for shortness of breath and heart-related trouble. In fact, Hinn was in intensive care. He had just come back from a prophecy and healing crusade in Brazil, having spoken to hundreds of thousands of people in eager pursuit of his miracle working. Suffering from arterial fibrillation and a lack of oxygen in his pulmonary system, Hinn was actually placed in intensive care.
Hinn has now been released, with his family giving praises to God for his recovery. Hinn's daughter says,
"The doctor told me my dad has helped so many people that he was going to be sure to do his best to get his health back to normal. (Finding that doctor) was a God thing."
Oh, and according to the Charisma article linked above, Pat Robertson called and prayed with him for healing…so, that probably helped, too.
Hinn's Facebook page has solicited prayer for his healing as well. Oh, and also his website. But, they were bubbling over with optimism…
By God's grace and with the help of your prayers, we are told to expect a complete recovery. More importantly, his doctors are assuring him that within a very short time he will be on his feet ministering around the world again, just as he has for over 40 years.
Well, by God's grace, prayers, and a few of those doctors and the best cardiologists money can by in Southern California…
Of course, the answers to Benny's prayers for healing might just be found on the very website that gives the prayer request. Here are some products that might help…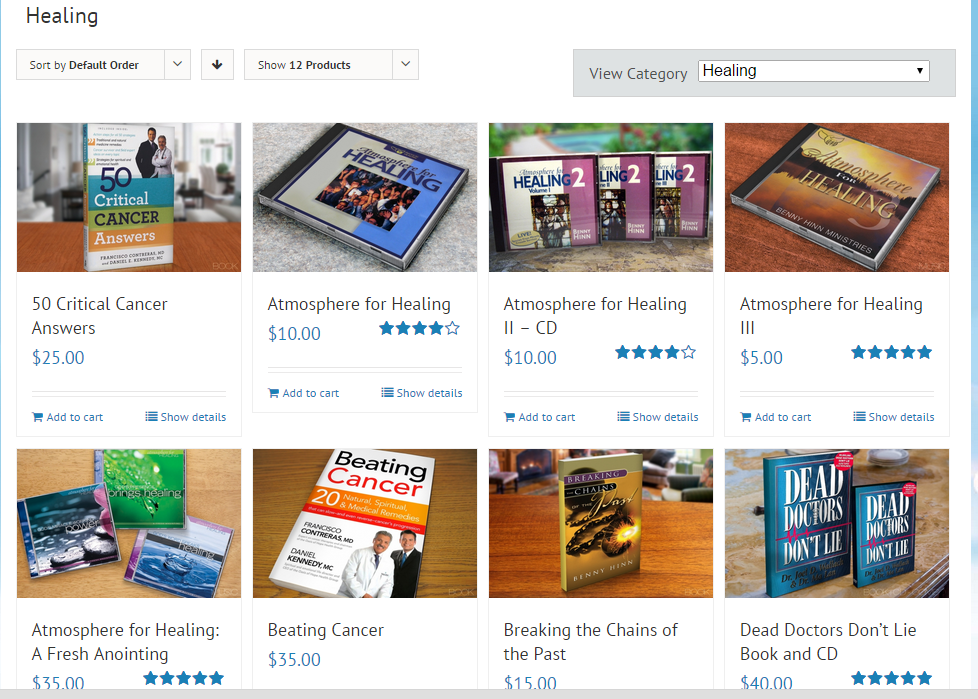 And if he gets cold in that hospital bed, here's a blanket sold on his website with special healing power…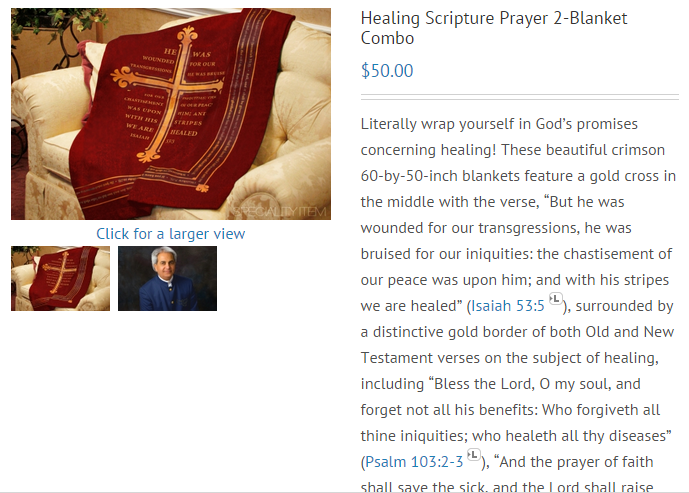 And what kind of healing blanket would be complete without a "pillow of health" (for only one hundred dollars more)?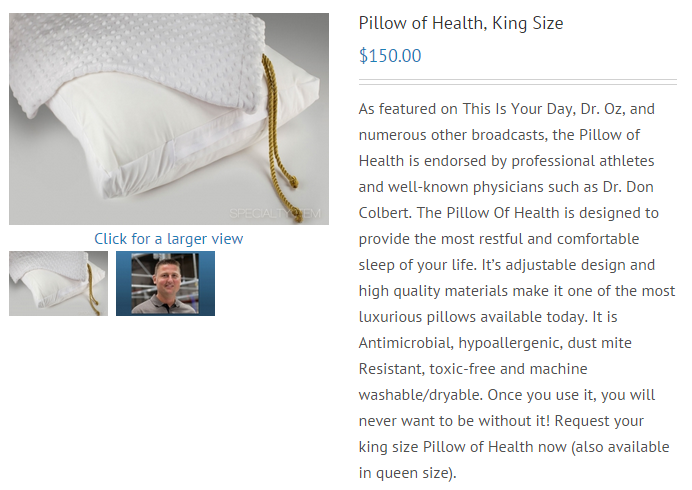 Of course, everyone knows that real healing comes from seed-sowing. And like Hinn's own website says below…
 Increase your seed level to increase your harvest level, because that's what releases the anointing for favor. Every level of giving releases your faith. You must release greater seed in order to release a greater harvest. It is impossible to see a greater harvest if you are content to give sparingly.
So in retrospect, perhaps the most helpful thing Hinn can do to receive healing is to donate "a seed faith gift that will make it possible to receive the life-saving and miracle-working power of Jesus Christ…" By that, of course, we mean donate to himself at BennyHinn.org, one such organization that claims to be able to harness these supernatural powers. Hinn should definitely start sowing seeds to himself, and maybe these physical ailments will go away.
Or better yet, Hinn should just remember his own words – as recorded on his own website, as preached to a crowd in Indonesia…
People ask, 'Is healing God's will?' Sickness is not the will of God.