Lifeway Exec Says Pastors Not Taking Annual Raises Hurt Church, While He Peddles Poison
Thom Rainer, president of SBC-owned Lifeway Christian Resources, is full of advice. In recent weeks, Rainer has posted advice on ten things pastor's shouldn't say, why churches should ditch stand-and-greet time, nine ways to pray for church leaders, and top reasons first time guests don't return to church. Rainer is really, really good at giving advice. And frankly, people love taking his advice. After all, he's transformed his position at Lifeway into a professional advice-giver and leadership guru.
And as you can see in the above tweet, Rainer recently gave advice on pastors' salaries. And in that advice, Rainer asserts that a pastor not taking a raise is hurting their church.
In the mean time, these are the books that Rainer sells to local churches, their pastors and church members:
From non-Trinitarian, Oneness Pentecostal, Prosperity Gospel and Word-of-Faith teacher, TD Jakes:
Instinct
So You Call Yourself a Man?
Reposition Yourself: Living Your Life Without Limits
From mystic (whose books claim Direct, Divine Revelation) , Sarah Young:
Jesus Calling
Jesus Today
365: Jesus Calling for Kids
Jesus Calling, the Bible
Dear Jesus, Seeking His Life in Your Life
From Contemplative Prayer mystic, Christine Caine
From charismatic, dual-covenant theologian and prayer-shawl pitchman, John Hagee
Four Blood Moons
From Daniel to Doomsday
Can America Survive
Avenger of Blood
Knowing the Secrets of God
The Three Heavens
Financial Armageddon
Heaven Tourism Books
The Boy Who Came Back From Heaven
Heaven is For Real
90 Minutes in Heaven
These are just a few the examples found in my excursion to a Lifeway bookstore with Justin Peters back in June. There are many, many more troubling books sold both at bookstore locations and online. And who is talking about it? Who cares?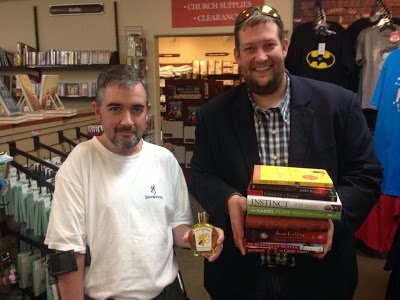 A better question…who of our leaders are speaking out about our bookstores selling abject heresy? No, I'm not terribly happy about Lifeway selling Steven Furtick, Perry Noble, Beth Moore or Rick Warren. But at least these guys are Southern Baptists (for what it's worth – and that's not much). No, I'm certainly not happy about selling the material of those holding to theology considered aberrant by Southern Baptists, like the Duck Dynasty Campbellites or Seventh Day Adventist, Ben Carson. Frankly, I'm not sure why we're selling the theological perspectives of those holding to doctrines that pastors in the pulpit have to contend against.
But beyond all of those questionable authors are those that could rightly be called heretical by almost any Southern Baptist – and almost anybody in evangelicalism that aren't themselves heretical. The fact is, Lifeway peddles Word of Faith heresy. Lifeway peddles Prosperity Gospel. Lifeway peddles mysticism. Lifeway peddles what purports to be direct, divine revelation.
So why are our seminary presidents and denominational leaders quoting or tweeting Thom Rainer? Listen, I'm sure he's a nice guy. He seems like a wonderful guy. He peddles abject heresy for what I have to assume is profit (I don't want to assign motives, but can you think of another?).  That's not leadership. That's sinful. Rainer has been reached out to about these aberrant books he's peddling. Stetzer has been reached out to about this. Lifeway's trustees have been reached out to about this. I know all of this for a fact. I've seen the emails.
A few things seem undeniable. (1) Rainer and Rainer's Lifeway simply do not care that they're selling bad theology heresy and (2) they do not answer to you. They do not answer to me. They answer, virtually, to no one. Oh, sure. There are trustees. Clearly, as is often the case in Southern Baptist life, trustees are chosen by their unlikeliness to intervene in the affairs of the organization – that's how they get selected in the first place. If the SBC is going to stop being among the nation's largest peddlers of poison, messengers need to be proactive in selecting Lifeway trustees who are intent on relieving Rainer of his position and making necessary changes (and unlike the current crop, be willing to actually return an email).
While small-time but faithful Southern Baptist pastors are preaching in their pulpit and contending for the faith as it was once delivered, the SBC is selling those opposing heresies from our bookstore. This ought not be, beloved.
Something needs to be said. Something needs to be done. And until then, we need to stop taking Rainer's advice or quoting him on leadership.
[Contributed by JD Hall]