Vulgarity and Self-Transcripted Lies: A Caner Project Update
New documents related to Ergun Caner's lawsuit against Jonathan Autry offer several revelations concerning Caner's years of lies and deceit. Remember, Caner's lawsuit against Smathers was thrown out of court several weeks ago with prejudice. Caner's new employer, Brewton-Parker College, has yet to respond to the embarrassingly predictable dismissal through their Vice President of Communication, Peter Lumpkins. Autry's lawsuit, however, has yet to be dismissed but will no doubt share the same foreseeable fate.
Remember, Caner has repeatedly claimed (as have his defenders) that the videos presented of his lies have been "edited" by either Muslim extremists or Calvinists.
This is a document filed by Ergun Caner himself, which he submitted to the Copyright Office in his bogus copyright claim and included a transcription of his talk to the U.S. Marines. Notice – this is an official court document with a transcription that he provided.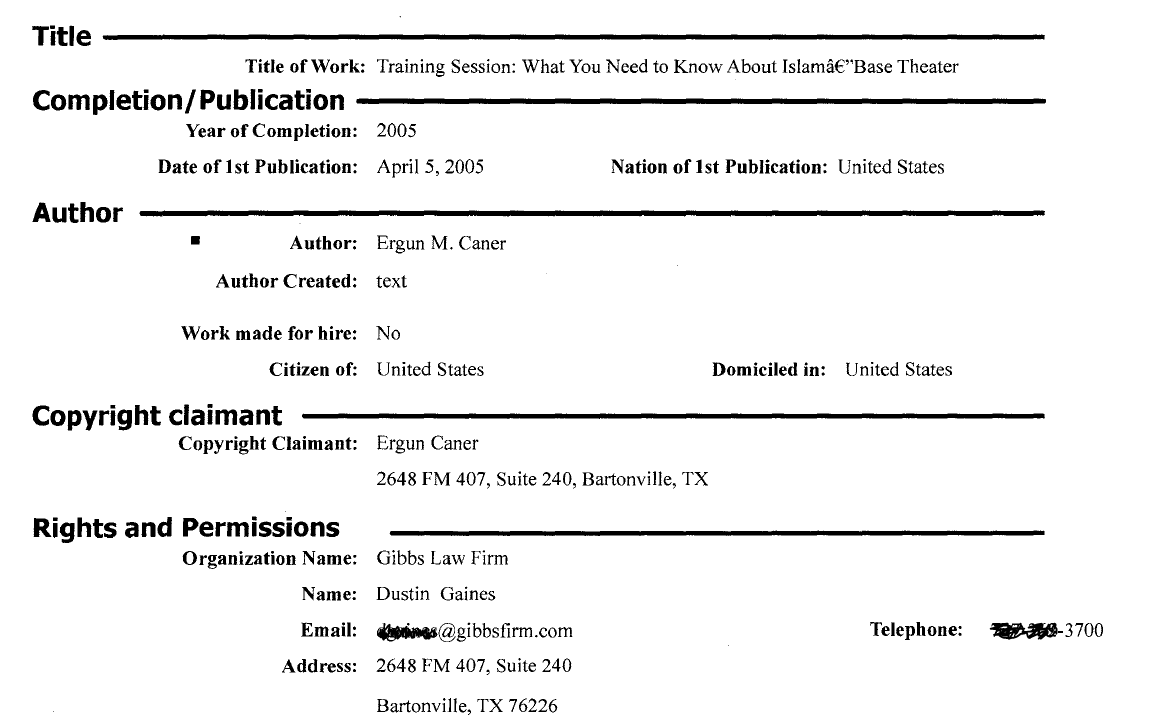 What will follow (the entire pdf will be provided for you below) can't be blamed upon a Muslim-Calvinist conspiracy.** This is the official transcript provided by Ergun Caner to the court. Notice, just a sampling of the lies told by Caner (told in his own words, transcribed and provided to the court at the hands of his attorney):

We're still waiting for a single debate in any type of "format" with a Muslim, scholar or imam.
Really? When he was two?

Caner never lived in Instanbul. Caner never lived in Cairo. Caner was born in Sweden and moved to Ohio when he was two. Notice, he says that his training was in Cairo before he came to America. "Cairo" must have been the nickname for his Swedish suburb, and he must have been one mean toddler.

Caner's father had more than one wife at a time? His defenders say Caner was speaking of his father's divorce and remarriage. Clearly, Caner was speaking of polygamy. Guess what – Caner's father was not a polygamist. This is a lie.
Aside from the continual and obvious untruths spoken by Caner's mouth and transcribed by his attorney and submitted in court documentation, the transcripts also show some vulgarity that even made the Marines commanding officer rebuke him.

After Caner throws out the disgusting, vile and juvenile term mangina, the audience goes quiet – obviously disturbed by his language in such a disciplined, professional setting. Caner asks, "Did you really think I was going to talk like a professor?" On the video/audio, you can clearly hear the commanding officer say assertively, "YES." This is why Caner recovers, almost apologetically, "I'd do anything the Commander says."
That's quite a Christian example Caner is providing – he made Marines blush. Caner also gives his best Stone Cold Steve Austin impression:

Ladies and gentlemen, this is the real Ergun Mehmet Caner. Butch Caner. E. Michael Caner. Ergun Mehmet Giovanni Caner (all of these names have been used by Caner, so one of them has to be right).
In the mean time, Caner has yet to admit to these lies (as obvious as they are) and has continued to sue those posting this video. Thankfully, Caner provided the very transcript that makes this video unnecessary.
Notice, Autry has filed a brief with the court making this document admissable primarily because of this statement…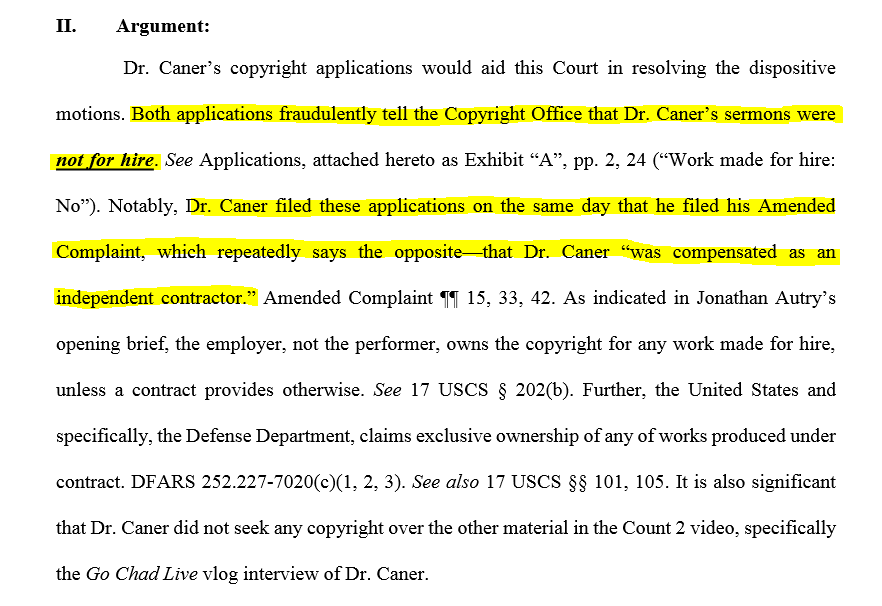 The mentioned copyright claims (from which the transcripts above were taken) clearly state that the Marines talk was "not for hire." This is because, as almost everyone knows, the one paying for the performance owns the copyright – by default. Caner claims he was not paid for his performance, thereby leaving open the possibility that he could sue Smathers and Autry for copyright infringement (even though this had never been tried with material released via the Freedom of Information Act). On the very same day, Caner filed his complaint that says the opposite – that he "was compensated as an independent contractor."
It's for this reason that Autry filed a motion today asking that these documents be admissible because they clearly indicate fraud on the part of Ergun Caner.  Judge Norman Moon says that he's found good cause to grant Autry's request that this be admissible.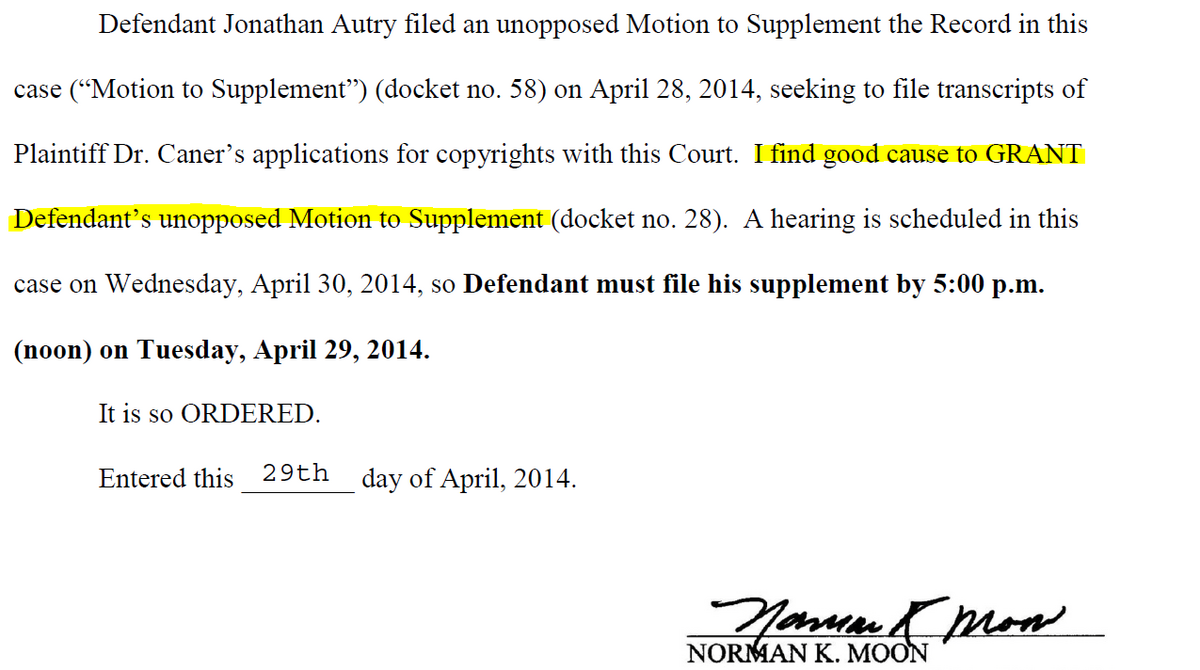 It seems things are getting deeper for Ergun Caner. But alas, I bet this is just one more "pagan attack."