Affinity Based Churches – A Reproach to the Gospel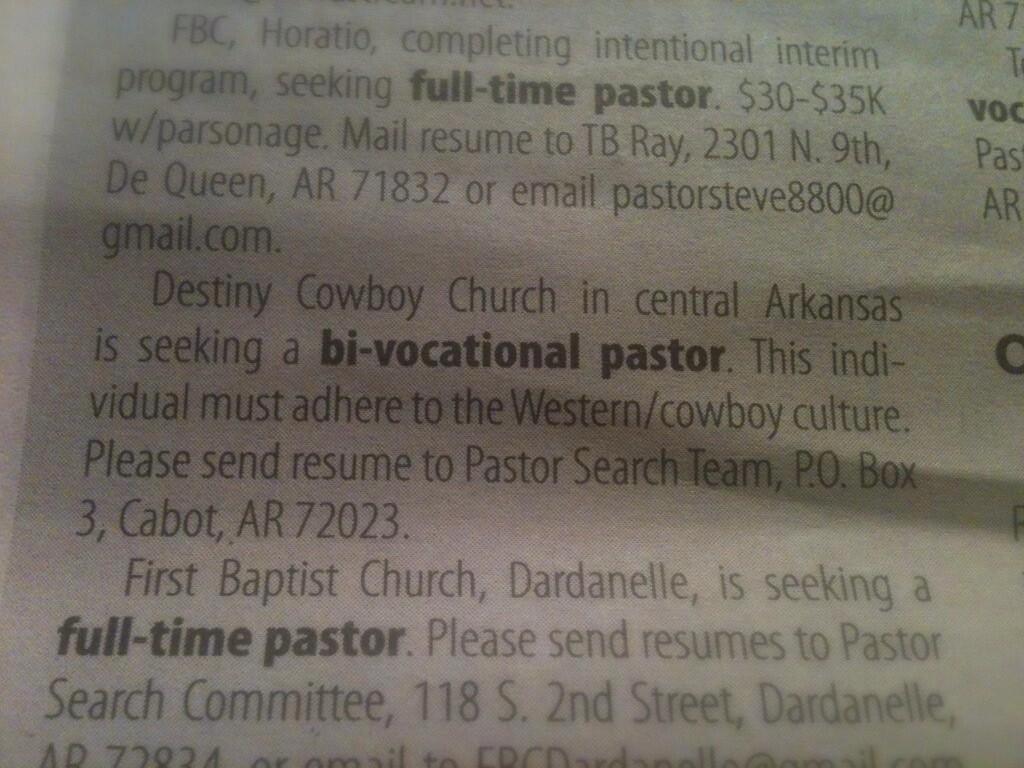 You can click the picture above for a bigger image. The ad asks for a pastor to serve the Destiny Cowboy Church in Cabot, AR. The only other  information in the ad is that "This individual must adhere to the Western/cowboy culture."
It's interesting that most pastor search ads include the phrase "must adhere to the Baptist Faith and Message" or some other doctrinal statement. The requirements of this pastor is that he must be a cowboy. I tweeted this out last night, and had a response from the Arkansas Baptist News, stating "Cowboy churches reach people for Jesus! #missions".
There you have it, folks. Pragmatism is the chief and primary concern of the Arkansas Baptist News. The question is, "Does it work?" Any question concerning "Is this Biblical" must be put aside as contrary to missions. Our goal must be to "reach people" and whether or not church is done according to the Holy Scriptures is not even a secondary matter, but a forgotten one.
As I've previously written about, a Biblical, New Testament and Southern Baptist church on an Indian Reservation in Montana was enticed by the Montana Southern Baptist Convention to forsake their assembly and meet with a new church plant a few miles off the reservation. Shortly thereafter, the church plant became affinity-based and moved further off the reservation to become a "cowboy church." The Indians, who needless to say weren't interested in becoming cowboys, were left abandoned and forsaken. Did Christ ordain the use of affinities in attracting people to His church? Is this how He is building his church?
As the rest of the Christian world is trying to convince people – in an age of church consumerism – that "it's not all about you," others endorse the strategy of proclaiming that it IS, indeed, all about you. Affinity-based churches overtly and explicitly send the message that it's all about your affinities, interests, hobbies, and lifestyles. Whatever it takes to get your hind parts in the door, this is what we will do. And so the Southern Baptist Convention and its North American Mission Board has decided to found churches not on the Gospel, but upon the hobbies or interests of the lost (including a race car-enthusiast church planted by NAMB employees in Montana). The church has come a long way from the physical means given us by Jesus to administer his local church, being bread, wine and a few feet of water.
The Destiny Cowboy Church in Cabot gives its mission statement as, "We will actively promote Christian country music, western culture events, and preaching that will apply to our everyday lives through a non-judgmental approach."
I would ask, "Did you get this mission statement from Jesus? Or did you receive it from the Holy Scriptures? Is "promoting Christian country music" and "western culture events" a part of the Great Commission? Or is limiting our command to "teach ALL that he has commanded (Matthew 28:18)" to those things that are immediately practical to our everyday lives a Biblical concept?
I would urge you to read Reformation Montana's 'Caution Concerning Affinity-Based Churches' [click here] for the full theological reasoning of why Cowboy Churches are inherently unbiblical and dangerous. Chiefly, the Gospel is to bring people of all tribes, tongues and nations (Revelation 7:9), grafted together (Romans 11:24) into one Kingdom (1 Peter 2:9-10). If Jews and Gentiles – two groups with radically different lifestyles, traditions, and a history of contempt toward one another were to worship in one church because there's one Lord, one faith and one baptism (Ephesians 4:5), then why are we creating churches for niche groups?
The church of Jesus should be a hodgepodge and melting pot of people from all demographics, backgrounds, socio-economic strata, and colors into one. I doubt I would receive the support of the Arkansas Baptist News if I planted a "Rich People Church" or a "Upper-Class White Church." But what if I could convince them it could "reach people for Jesus?" What if this approach was "successful"? What if it "worked"? Could pragmatism remove the bad taste from our mouth and sick feeling in our stomach?
The chief end of man is to glorify God. The church is a representation of Christ on Earth – and Christ does not discriminate on the basis of surface-level hobbies, lifestyles or interests. The Biblical church says, "Lay your affinities at the door, and come in and worship Jesus. There is no Jew or Greek, no cowboy or Indian, no rich or poor, black or white." You see, none of that stuff matters. The Gospel is the unifying tie that binds us all together – not country music.
My church has taken the Gospel to a nearby Indian reservation that has yet to be reached effectively with the message of Jesus. We will soon be sending a young couple who are giving their lives there to begin an after-school program and evangelize their neighbors and when the Holy Spirit saves some of them, we will plant a church from those disciples. It will not be an Indian Church even though it will consist of Indians. Cowboys will be welcome to worship there. So will people of every demographic. We will not be an "Indian church," but a church with Indians in it. The reason the reservation has yet to accept the Gospel isn't because it's contrary to their culture – it's because it's contrary to their depraved, fallen state – a depravity that is akin to every ethnicity because we are all children of Adam. The message that will save them will not come from their culture – it will come from the Bible. It's that Jesus died so they could become the spiritual children of Abraham, children of God. They must come to see themselves first and foremost as believers in Jesus, and secondly as ethnic Native Americans.
The greatest departure from reason in the affinity-based church model is from the most basic of understandings of Christ's church. In evangelism, it may be helpful or even necessary to enter into a demographic with a specific cultural contextualization that is focused intently on the peculiar differences of that demographic. But the "church" is by definition, those that are already born again. The church is a "called-out assembly." There's no such thing as a church of lost people – that's called a group of lost people, not a church. If a particular demographic is lost, like cowboys, for example, they are not the church. But if they are saved, they will eagerly cast off their shallow and temporary differences in the name of Jesus and worship with anyone else who they can call "brother." My church is in Montana – and those in my church are not dime store cowboys like those who have adopted "Western culture" in the heart of the South. They're the real deal. And they worship cheerfully with Native Americans, business types, white collars, and even a few hippies or two and at least a handful of who you might call "metro-sexual" (heterosexuals that get expensive haircuts). But they're not a "cowboy" within the church; they're a believer. And that's all that matters.
We have in our church a dear brother from South Korea, who is a testimony to all of us for his passion and zeal for the Gospel. He's never ridden a horse or shot a gun (I highly doubt). And yet, he ministers regularly to those who come through out doors. Any suggestion that he cannot minister to us because he does not share our culture is a reproach to the Gospel. Anyone who would ask for "someone who's not South Korean" (which is the same as asking for a cowboy) is shaming the blood of Christ, which ransoms us into one family.
If we judge our methodology by "what works" we will not help establish what Jesus is building.