Over the years, most of the evangelical left – including The Gospel Coalition, SBC Voices, the ERLC, Social Religionists, and the rainbow-splattered evangelical Gaystopo – called for us to be boycotted and blacklisted from the Internet. It did not work.

P&P's legion of faithful followers and supporters helped create the "wrecking ball of Big Eva" that we became. Day after day after day, we led la résistance against our Evangelical Intelligentsia overlords. And this led The "Gospel" Coalition's resident homo-priest to say publicly he'd rather people watch porn than read Pulpit & Pen. But we shrugged all that off.
Sure, we had to change advertising networks on multiple occasions thanks to the efforts of evangelicalism's left (we were first blacklisted by Google and then Amazon advertising networks) but we found ad partners in other countries (like Moneytizer, in France of all places) who didn't care about American sentiments of political correctness. But, we were still able to maneuver agilely to provide ourselves a sustainable revenue stream.
But then, out of nowhere, Facebook's censorship began to clamp down on our free speech.
THEIR CENSORSHIP…
First, they banned us for articles saying Bruce Jenner was a man (P.S. he is still a man). They then banned us for saying that biological sex actually exists (P.S. it does exist). They banned us for saying that transgenderism is a mental illness (P.S. it's crazy nuts). On and on it went, and each time they flagged us or banned us for "hate speech" (read that: saying true stuff) they warned us that our Facebook page would be de-listed for violations of their "community standards. "
This was concerning, considering that 95% of our daily traffic was driven by Facebook. And with many tens of thousands following or liking our P&P Facebook page, we knew that being blacklisted from Facebook would be damning for our publishing model.
Then, Facebook started to employ third-party "fact-checkers." These groups claim to be independent, but as has widely been reported, are run by LGBTQMNOP+/=- groups, Islamic anti-defamation groups, and hard-core leftists. We were "fact-checked" by a pro-LGBTQ group for factual and accurate reporting because they didn't like our use of "scare quotes" around the term "transgender." We were fact-checked by the far-left outfit Politifact for factual and accurate reporting about Bill Gates' vaccine work, which simply cited his own words verbatim. Soon, every post we wrote about the "transgender" or homosexual movement was fact-checked by the gay-brigade. And each time, Facebook warned us they were limiting our reach.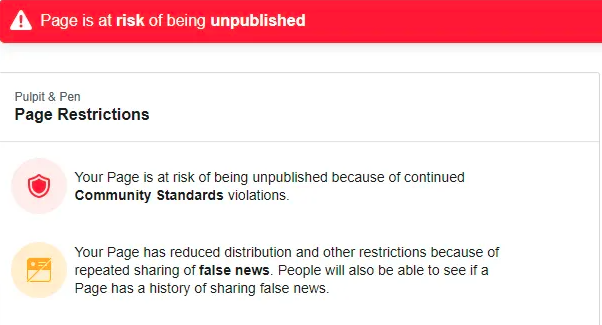 But, what do you expect from a social media giant that says it will ban people for "terrorism" just because they're wearing MAGA hats?
And then, alas, they killed our Facebook page, which funneled the masses to our online content.

At present, you can't see our Facebook page without going to it directly (it will not show up in your news feeds).
But, we wondered, can we start a new Facebook page? Sure, we'll lose tens of thousands of followers, but can we start over? So, we started a "PNP News" Facebook page to see if Facebook would play along with us in a game of whack-a-mole.
No dice. Facebook had not only censored our Facebook page, they blacklisted our URL. This means that no matter where or by whom our articles are shared, they will be shadow-banned, thus preventing people from seeing them.
This effectively killed the exclusive content provided on our page. While our readers still show up in crowds of 20 thousand readers today, this is down from more than 40 thousand readers per day at the beginning of the year, many of whom were brought in by their Facebook friends posting links to the website. The latter is no longer a possibility.
Overnight, we nose-dived from more than a million readers every month to less than 500 thousand and from an Alexa rank of 5 thousand to an Alexa rank of 20 thousand.
Well, to hell with Facebook's "community standards." We don't give up, so here's what we're doing.
Pulpit & Pen, aka PNP News, is being set up as a news aggregator (like Drudge Report). Our faithful readership can (and should) still come daily to see the links we provide, from the top polemics news sites around the world. Sites such as Reformation Charlotte, Capstone Report, Thirty Pieces of Silver, and a whole host of other polemical news.
Trust us, we are newshounds and will give you everything you need to know, here in one convenient place.
Our daily exclusive content, the 6-8 original articles every day on conservative and Christian news topics, will be done on another new website unaffiliated with the P&P name so as not to attract the attention of the Technocrat Censorship Committees…at least, for a year or two. That website will be associated with JD's new nationwide radio program, Black Robe Radio, and will be called the Black Robe Review. This site will provide our original content while P&P serves as an aggregator. Perhaps Black Robe Review will survive a year or two before winding up on Facebook's radar.

Hopefully by then, President Trump can do something about Big Tech Censorship like he's promising (and here is an explanation of why he should follow through). Either that, or maybe Jesus will be back by then (Maranatha!). No matter what, we are going to march forward. Perhaps in a year or two things will be back to normal if enough pressure can be placed on the tech monopolies to stop being fascists book-burners.
In the meantime, you should:
Continue to come to P&P for your daily news links, which you can share from Facebook.
Join us on Patreon (here) and get exclusive podcast content of JD waxing downright poetic on polemics topics like a deadly discernment ninja.
Join the Pulpit Bunker (FB group) to stay in touch with the polemics community.
Follow JD Hall (FB page).
Follow Jordan Hall's personal page (FB).
Check out the Montana Daily Gazette (website), which has both conservative and Christian news.
'Like' and follow the Montana Daily Gazette (FB Page) on Facebook.
Support us on GoFundMe (link).
Follow P&P on Twitter (link)
Listen to the free version of Polemics Report on BTWN (podcast).
Finally, social media and website links to Black Robe Radio and the Black Robe Review will be set up within the week.